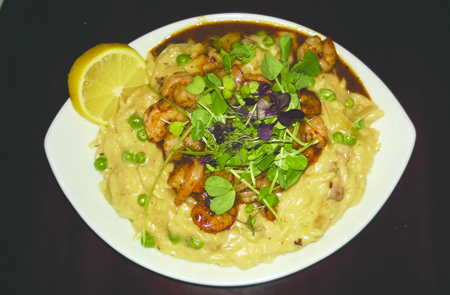 As promised, Muse @ the end is staying open year round with seasonal additions to their menu. Happy hour is daily 5-7pm, and in addition to the regular and prix fixe menus, you can enjoy Sunday Brunch or a light bar fare which is always available. The very popular three course $30 Prix Fixe is offered all night during the week and till 6:30 on Friday and Saturday evenings. A nice variety of dishes are available and the portions are the same as on their regular menu.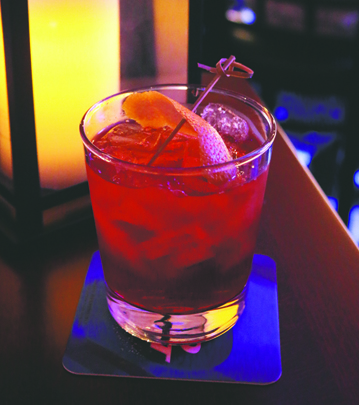 Kevin, who manages the restaurant and is always friendly and welcoming, explained some of the new menu items as we sat in the spacious, comfortable bar room.  From our high top table, we enjoyed the view of the unique illuminated bar, the quaint outdoor front patio, and beautiful French doors; behind which is the dining area gently lit by hanging light chandeliers and candles. Each dining space offers a comfortable, warm ambiance with friendly faces and a gentle hum of conversations.
Behind the bar, Kristin created one of her fall specialties, Boulevardier- which is similar to a Negroni only with bourbon and her special house made apple cinnamon simple syrup. We sipped on this treat as we tasted the fresh rolls with a trio of condiments, including a delicious sundried tomato pesto tapenade.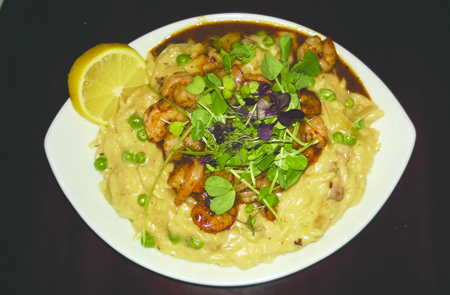 Our meal selections were left up to the Chef who treated us to many of their new menu items. First was the Shrimp-n-Grits and Clams Oreganata Tart. The spicy, sweet Cajun sauce over the creamy grits with tender shrimps and micro-greens created an excellent blend of flavors and textures that came together perfectly. The tart, a light flaky crisp puff pastry topped with local chopped clams Oreganata stuffing, with roasted garlic ricotta, basil shoots and a gentle sprinkle of grated cheese  resulted in a creatively delicious dish.  In addition to these two yummy starters, they've also added Shishito Fritto and Scallop Mac-n-Cheese to their other delicious items. Besides the ones we had this evening, some of my other favorites are "Not Ya Mama's Meatball" and Mussels a la Muse.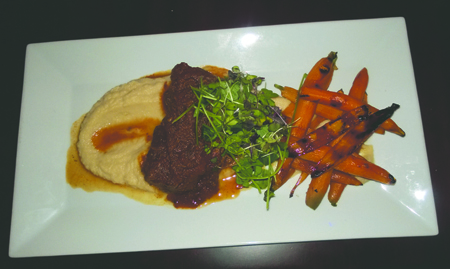 For supper, we enjoyed the new Shrimp & Orzo Carbonara and Chianti & Tomato Braised Boneless Beef Short Ribs.  Each of these is perfect fall fare to enjoy on a crisp evening. The Carbonara is a creamy mixture of a Chardonnay Alfredo tossed with toasted Orzo, blackened shrimp and crispy pork belly, sweet peas, caramelized onion and roasted garlic. Wow, quite a flavorful and belly warming fall meal! The fork tender Short Ribs served over Celeriac Apple Puree with Grilled Organic Baby Carrots sports a gently rich sauce that is fabulously accented by the sweet puree. These new items are perfect additions to the existing delicious choice that we've been enjoying throughout the season.
As usual, the desserts are a fresh and delicious. Our meal was completed with a dish of vanilla ice cream with fresh berries, and Grandma G's Zeppole served in a paper bag with love and accompanied by Raspberry, Vanilla, and Carmel Sauces. Along with a fancy Brandy Punch after dinner drink from Kristin- it was a perfect ending to a lovely evening.
Matt and his staff have carved a placed for themselves in the Montauk community and are looking forward to buckling down for the winter months. They will be closed on Tuesdays and Wednesdays- and Sunday Brunch may be replaced with a lunch menu so stay tuned for updates. Muse @ the end is always available for private events- for additional information see their web site- www.museattheend.com