Overlooking the Atlantic on Old Montauk Highway just outside of town, this Restaurant with its country charm is a Montauk favorite. Frequented by locals and visitors returning year after year, they have been family owned for 25 years! Owner and operators Tom and Helene, and their staff are welcoming and work diligentlyto ensure all of their guests have a wonderful dining experience. Our waiter Richard was pleasant and informative; we appreciated his warm, attentive service.
The unobstructed view of the ocean from the dining room, front porch and side deck isex-traordinary as is their unique menu; offering extensive choices on their Homemade Cocktails, Main, and Dessert Menus. In addition to the amazing view, the welcoming Bar and Fireplace as you enter the dining room adds to the peaceful ambiance.
The list of Homemade Cocktails including Pineapple, Watermelon, Espresso, Cucumber Ginger, and Pomegranate Martini's, will change seasonally but on the night we visited the list of ten plus specialty drinks each sounded tasty. We sampled the Red Sangria which is a perfect mix-ture of their Secret ingredients and served with sliced pineapple and orange, and was one of the best I've tasted. The Huckleberry Lemonade tasted like lemonade not too sweetened, and a special Coconut Martini was light and fresh, all great choices for the August evening.
The appetizers range from Artichoke, Spinach & Brie Dip, to Jumbo Shrimp Cocktail, to Honey Ginger Popcorn Shrimp and everything in between. We chose the House Special-Honey Ginger Popcorn Shrimp with a light spice and topped with sesame seeds and scallions, and the Lightly Battered Crispy Calamari with tri color peppers and sweet chili toasted garlic dipping sauce Both were prepared with a light batter al-lowing the flavors of the fish and seasonings come through. The Chefs prize winning New England Clam Chowder is flavorful and light with an abundance of tender dams and is one of the many choices from the list of Soup and Salads.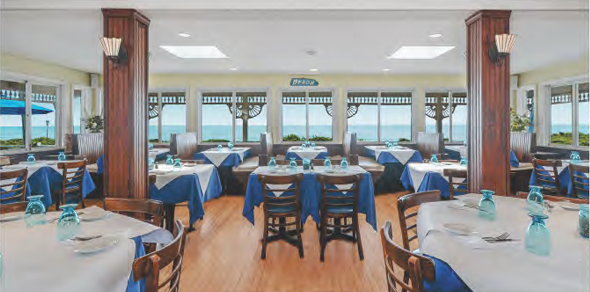 The main menu hosts a plen-tiful selection of fish and shell-fish, pasta's, and choices from the farm. Head Chefs Gary originally from Georgia, and Chef Juan from Uruguay and Palm Beach present beauti-fully eclectic choices offering dishes with a southern flair as well as a his of the French in-fluence resulting in tastes you don't usually find in MonMuk.


The Savanna Style Shrimp, Cajun Penne Pasta, and Mango Chipotle Glazed BBQ Baby Back Ribs are a few of the diner's favorites and came highly recommended. Every dish sounds delicious and watching the plates pass they looked amazing too. Since mak-ing a decision from this menu was not easy we decided to go with two of these recom-mendations.

The Savanna Style Shrimp with Andouille sausage sauteed with red and green pep-pers and onion over cheddar cheese grits is a spicy southern treat worth tasting- if you prefer pasta to grits, the Cajun Penne Pasta is similar. The full rack of mouthwatering Mango Chipotle Glazed BBQ Baby Back Ribs was served with delicious French Fries and corn on the cob. Cooked perfectly with just enough sauce to enjoy the flavor of the meat, it no wonder these ribs are a favorite that guests return again and again to enjoy. We also decided to try one of the specials for the evening, the pan seared local fresh Halibut atop a bed of mashed red potatoes with watermelon Blanc Sauce topped with Water-melon Remoulade What a perfectsunmer fish; moist and just a hint of sweetness from the watermelon offset by the creamy tender and chunky mashed potatoes. We really en-eyed everything; fresh, flavorful, and creative combinations that malce this menu stand out, it's no wonder they were ranked #1 in Montauk for dining by Trip Advisors!

The portions are generous and even though my eighteen year old son joined us, we packed up the left-over's. Even though we couldn't finish our meals. Tom and Helene sent out some desserts from their extensive Homemade Sweet Treat's Menu. The Summer Mud Pie is a decadent slice of Coffee Ice Cream layered with Dark Fudge, Walnuts, and Oreo Cookie Crumbs – heavenly and the ice cream wasn't too strong as to over-power the other yummy flavors. We also enjoyed Bailey's Gelato straight from Brooklyn, smooth and delicious. Fried Cheesecake is light and fluffy cheesecake rolled in pastry dough, fried until golden browned, delicate and flake, and dusted with cinnamon sugar, all served with vanilla ice cream and strawberries and drizzled with caramel glaze. WOW, Chef Juan and Chef Gary can do it A! I only wish I could have tried a few more, like the Tequila Key Lime Pie, Dark Chocolate Flourless Cake or even some of the old fashioned Ice Cream Sodas. If you prefer to sip your dessert, they offer a complete list of specialty coffees, liqueurs, scotch, cognac, port, and brandy.
The Surfside Restaurant serves an unbelievable selection of delicious food, I'm sure that if you haven't had the pleasure of dining there yet, you'll become a regular! For September they'll serve lunch Saturday and Sunday and dinners daily at 5pm. October brings their Oktoberfest celebration beginning the 19th with Homemade Sauerbraten, German Sausages and Smoked Pork Chops with their meats brought in fresh from Karl Ehmers. Call for details 631- 668-5958