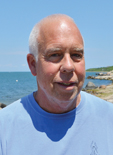 The Montauk Playhouse Community Center Foundation is pleased to announce that Perry B. "Chip" Duryea III has been elected to serve as president of the Foundation's Board of Directors beginning January 2018. Duryea has been instrumental in helping to lead the Foundation's final phase of its capital campaign.
Born and raised in Montauk, Duryea worked in his family's seafood business for over forty years. He retired from his longtime position as president of Perry Duryea & Son in 2014. He is committed to philanthropy on the East End, running the Montauk Cancer Support Group and working closely with the Montauk Community Church and the Montauk Chamber of Commerce. Duryea a graduate of Colgate University and earned an MBA from Columbia University.
Duryea's presidency marks his dedication to creating a vibrant future for all of Montauk's residents and visitors. With $6 million of the $8 million needed to begin construction on the Cultural Arts and Aquatic Centers, Duryea is eager to lead the MPCCF through the final phase the its capital campaign.
Duryea succeeds Lisa DeVeglio, who will assume the role of President Emeritus after 20 years as a member of the Board and seven as its president. DeVeglio will be honored for her commitment to the local community, alongside Roger Feit, at the Foundation's annual Gala in August.
Michele Walsh will serve as Vice President of the Board of Directors, the position currently held by Tom Griffin. Walsh is a President and Co-Founder of leading marketing company IT Briefcase.
Susan Henkin, Executive Director "looks forward" to working with the new Board leadership and welcoming two new Directors. "This is an exciting time for the Foundation, evolving leadership ensures the project will thrive".
ABOUT THE MONTAUK PLAYHOUSE: The Montauk Playhouse Community Center Foundation, Inc (MPCCF) is a 501(c)3 nonprofit. The founding mission was to save the historic Montauk Playhouse and create a vibrant home for the arts, education, athletics, and human services. The center currently offers a gymnasium, childcare center, a senior nutrition and day care center in addition to special events for Montauk's residents and visitors.