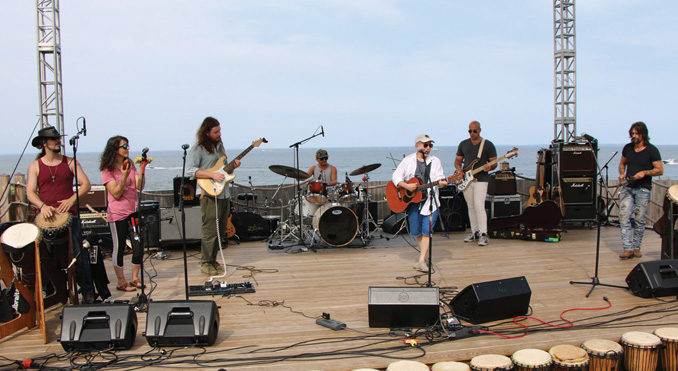 If you were at the show last August you experienced that special moment when the sun set in the west and the moon rose from the east, the cool breeze was gently blowing off the ocean, the crowd got to their feet in anticipation…
Montauk Project and special guests stepped onto the stage and… Paul sauntered in from side stage and the crowd went wild. A magnificent greeting from our community towards one of its loved and honored members.
We raised money for our Montauk Lighthouse, had a lovely evening on the hill overlooking the ocean with friends and family, and of course wonderful entertainment by the three bands as well as Paul Simon's performance!!!
At this year's concert, you will witness a moment in history. The lighthouse is undergoing a face-lift and it will be stripped down to the bare stone. While repairing any cracks in the tower, it will remain in that state for about a year allowing the special repairing process to cure. The lighthouse dome repairs, made of metal, has been prepared for painting and is almost completed. Once the maintenance on the stone is completed it will receive a new stripe and will be ready for another 200 years!
This project will cost over $1 million which is paid for by the MONTAUK Historical society. The money raised from this year's and future concerts will go towards this renovation as well as routine maintenance that is essential to the preservation of our national monument.
The MTK Lighthouse is the most visited tourist destination on Long Island which is an important part of our economy.
Please come and support the lighthouse!
This years concert (August 14th, Rain date 15th) will be another wonderful evening to remember. Relaxing in the natural amphitheater with the setting sun and full moon rising- listening to the sounds of summer!!!!
2019 LINEUP: KATE USHER AND THE STURDY SOULS • TUATHA DEA • THE MONTAUK PROJECT • OOGEE WAWA
So grab your chairs, blankets, kids, friends and neighbors- support our National Monument the Montauk Lighthouse- and have a wonderful night. We can't guarantee who may be in town and decide to join in this year's concert, but we can guarantee a great show!
Tickets can be purchased through the Montauk Music Festival Website: www.montaukmusicfestival.com