Photos by Richard Lewin Professional Photography (soniboy@aol.com)
Happy New Year, everyone, and welcome to the Winter 2021 edition of the Montauk Fire Department Corner. On behalf of the Officers, men and women of the Department, I'd like to wish a happy and prosperous new year to all. I would also like to thank our hosts at The Montauk Sun who continue to give us an opportunity to keep everyone up to date on what's going on at the Montauk Fire Department.
As I reported last month, the Montauk Fire Department, in conjunction with the Montauk Point Lions Club, sponsored the annual Holiday Dinner for Montauk Seniors. It was held on Sunday, December 6, 2020,
however, due to COVID-19 protocol, all the meals were either picked up "To Go" at the firehouse or were delivered directly to peoples' homes. Even though we could not invite our Senior guests into the firehouse this year, the same great meal was prepared by local chefs Joan
Franzone, Sam Joyce, Ed Lightcap, Sara Newberry and the rest of their staff. Over 200 dinners were delivered to peoples' homes and 125 dinners were picked up at the firehouse, making this event, as always, a happy success for everyone. Hopefully, we will be back to normal for next holiday season. I am thrilled that we were able to keep the thirty-plus year tradition going.

Also last month Santa made his annual stop at the Montauk Firehouse. We were very proud of keeping up this tradition also, even in the face of COVID-19,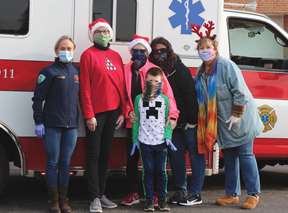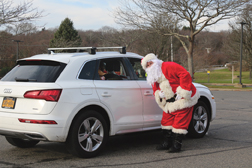 since Santa has visited every year since 1939, the year the Montauk Fire Department was established. I would like to thank all the Members of the Department, Ladies Auxiliary, Junior Fire Department, Boy and Girl Scouts and all the other volunteers who assisted in making both of these events a success. Thank you to Sean Tyrell for the photos.
We would like to welcome the Montauk Fire District's new Commissioner John Mark. John was elected to a five-year term in December and was sworn in on January 4, 2021 by Joseph Dryer, Chairman of the Commissioners. Good luck, John. We look forward to working with you. I would also like to thank Ex-Chief Mike Mirras who is stepping down after serving six years as a Commissioner of the Montauk Fire District. Mike has been an integral part of the Montauk Fire Department and the Fire District for many years and I wish him well in his post-Commissioner life.
I would like to present you with the 2021 list of Montauk Fire Department Officers who were also sworn in at the informal Ceremony on Monday, January 4, 2021.
CHIEF – MITCHELL VALCICH
1ST ASSISTANT CHIEF – SCOTT SNOW • 2ND ASSISTANT CHIEF – KEN GLOGG
SECRETARY – JEANINE MIEDZWIECKI • TREASURER – RICHARD WHITE, JR.
COMPANY No. 1: ED STEIN – CAPTAIN • MIKE GROEN – LIEUTENANT
COMPANY No. 2: PETER JOYCE – CAPTAIN • KYLE FAGERLAN – LIEUTENANT
COMPANY No. 3: ROBERT GOSMAN – CAPTAIN • DAVE RYAN – LIEUTENANT
COMPANY No. 4: BOB MAUTSCHKE – CAPTAIN • ALAN BURKE – LIEUTENANT • ELLEN COOKE – LIEUTENANT
COMPANY No. 5: TIM O'ROURKE – CAPTAIN • NENA STUCKART – LIEUTENANT
COMPANY No. 6: ED ECKER, JR. – CAPTAIN • HERB HERBERT – LIEUTENANT
That's all for this edition of Montauk Fire Department Corner. I look forward to keeping everyone up to date on the happenings at MFD. See you next issue.
~ Mitchell Valcich, Chief, Montauk Fire Department
https://www.montaukfiredistrict.org/