Photos Courtesy of Richard Lewin Professional Photography (soniboy@aol.com)
Hello and welcome to this month's edition of the Montauk Fire Department Corner. I hope everyone had a safe and fun Columbus Day holiday weekend and Halloween. The Montauk weather has been fantastic, and I trust everyone has been enjoying it. However, soon we must expect the weather to turn cold and I want to caution everyone to drive safely in the snow/icy conditions.
On September 11th the Montauk Fire Department, along with our brothers and sisters from surrounding Fire Departments, held a memorial service at Hook Mill in memory of the twentieth anniversary of the attacks on the World Trade Center, Pentagon, and in Pennsylvania. I would like to thank all who attended this solemn event. I am sure you feel as I do that it's hard to believe that it has been 20 years since this horrific attack, but the words "NEVER FORGET" ring as true today as in 2001. Here is Honorary Chief Richard Lewin's photo of Chief Richard Schoen hosting the 2011 "9-11 Monument Dedication" at the MFD Firehouse.
On Sunday, October 10th, the Amagansett Fire Department once again hosted the annual "Tyler Valcich Memorial Classic Car Show". Parents Mitchell "Mickey" Valcich and Valinda Valcich hold the event in memory of their beloved son Tyler whom they lost in 2014. Featured was Tyler's treasure, his 1969 1/2 Dodge Super Bee that took him four years to rebuild with authentic factory parts. Please see photos here by Richard Lewin and www.tylerproject.org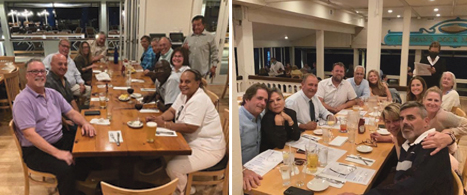 On Friday, September 24th, Company Nos. 2 and 6, along with wives, friends and family, had dinner at Gosman's restaurant. It was a nice chance to get together after the hectic summer, and everyone had a nice time.
During the month of October, the Montauk Fire Department participated in two parades through the streets of East Hampton. I am happy to report that we had a presence in the East Hampton Village Centennial Parade, which celebrated the 100th anniversary of East Hampton Village. Please enjoy the photos here provided by Honorary Chief Richard Lewin.
Also, on Saturday, October 16th the Montauk Fire Department participated in the East Hampton High School Homecoming Parade on Long Lane. I would like to thank MFD Firemen Justin Raynor and Kevin Reilly for representing the MFD to help root for the Bonackers.
In closing I would like to thank The Montauk Sun once again for affording us this venue to keep the public up to date about what is happening inside and out at the Montauk Fire Department. Their support is sincerely appreciated.
That's it for this month. Enjoy the rest of this good Montauk weather, and we will be back again next month.
~ Mitchell Valcich, Chief, Montauk Fire Department
https://www.montaukfiredistrict.org/