Photos by Richard Lewin Professional Photography (soniboy@aol.com)
Welcome to this month's edition of the Montauk Fire Department Corner. Our special focus this month is on a program that is celebrating its sixteenth anniversary at the Montauk Fire Department, the Montauk Junior Fire Department program.
First I would like to give a big shout out to fifty-plus-year member Dick White who celebrated his 80th birthday on Sunday, February 21, 2021. Dick's family planned an outdoor birthday gathering on his big day, and, to add to the surprise, many of our Members joined a huge crowd of others to participate in a "drive-by" to wish Dick a happy birthday. As you can see by the photos, Dick was surprised and really enjoyed it. On behalf of the officers, men and women, of the Montauk Fire Department, I want to wish Dick a very Happy Birthday and to thank him for all he has done for us over the years.
Now a little bit about the Montauk Fire Department's Junior Fire Fighters program.
In 2006, I had the pleasure of joining then Chief William Pitts in starting the Montauk Fire Department Juniors. The reasons we were so eager to begin such a program were two-fold. One was to give the boys and girls of Montauk between the ages of 12 and 18 an opportunity to be part of a local important organization, and two, and probably most importantly, it was a way to create and insure future new members for the Department. Statistics have shown that 85% of kids who participate in junior fire fighter programs ultimately became full time active members of volunteer fire departments when they become of age. That statistic holds true today. Many of the over 100 junior fire fighters who have successfully completed the required course have become volunteer and/or paid firefighters/EMTs in Montauk or in another area. Another interesting fact is that, out of the eight Eagle Scouts from Montauk since 2006, all eight were previously members of the Montauk Juniors.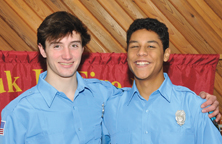 Once in the Juniors, the members train and learn the full range of duties of the regular fire fighters. They respond only to fires (not motor vehicle accidents, ambulance calls, etc). While at the fire scene they stay clear of the "hot zone", but provide tools, help with hose lines, and supply SCBA cylinders as needed. They also assist in the clean up after the event, attend all department drills and fire schools, and drill on their own at least once a month. They also assist in all department social events like Big Bucks, Senior Citizens Dinner, Saint Patrick's Day Parade, and Santa Visits the Firehouse.
The Juniors have their own Company and officers, including Company Captain and Company Lieutenant. The Company Captain for this year is Captain Dawson Lenahan, whose father Joe is an ex-chief, and his grandfather Bob Lenahan was an active member for many years. This year's Company Lieutenant is Sara Stuckart, whose mother and father are both currently active members of the MFD.
I thought it might be interesting to list the original charter members of the Montauk Junior Fire Fighter program. I'm sure you will recognize many of these names; Tyler Valcich, Tom Dess, Dustin Lightcap (Lieutenant), Peter Joyce Jr., Ed Schnell, Jason Carey (Captain), Mack Fleming, JJ Burke, Tyler Weiss, Britney Sanchez, Victoria Peele, Joe Malik-Atkinson, Daniel Sisco & Xen Angelinas
If you know any boy or girl between the ages of 12 and 18 who would like to participate in this valuable program please have them call the Montauk Fire Department at (631) 668-5695.
That's all for this month. Thanks for keeping up to date with the Montauk Fire Department, and I look forward to speaking to you again in the months to come.
~ Mitchell Valcich, Chief, Montauk Fire Department
https://www.montaukfiredistrict.org/