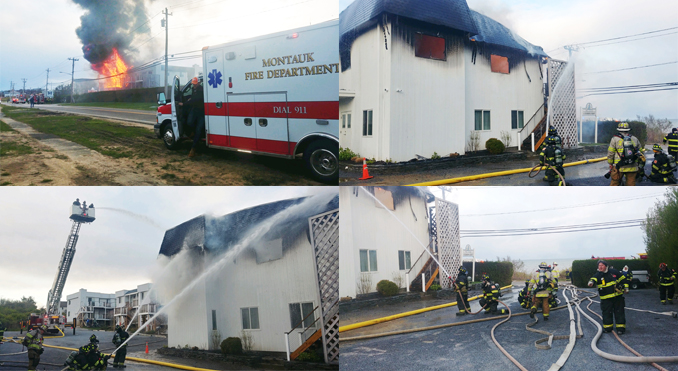 Hello, and welcome to this month's edition of the Montauk Fire Department Corner. I'm sure we are all sharing the same feelings, having gone through two months of social distancing and quarantining under our belts, but I feel confident in saying that I believe we are starting to see the light at the end of the COVID-19 tunnel.
Here are a few things that have happened at the Montauk Fire Department since last month's MFD Corner.
On Saturday, May 9th the Montauk Fire Department was called out to a structure fire on the Old Montauk Highway. The original call came in a 6:52pm. Upon arrival of the first firefighters, it was discovered that the fire was located on the second floor of the southwest corner of the Atlantic Bluffs Club Co-ops. The fire had already broken out of the upstairs structure and, due to the heavy winds, was rolling down and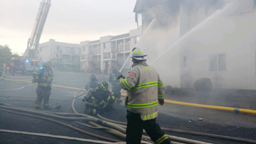 compromising rooms on the lower floor. We had a great turnout with over sixty firefighters, Emergency Medical Personnel and Fire Police responding. Ten pieces of the department's apparatus were needed for the call. Additionally, Amagansett, East Hampton, Springs, and Sag Harbor Fire Departments were called in to assist. I would like to thank the officers, men and women of these Departments for their quick response and assistance. As you can see by the accompanying photographs (courtesy of Company No. 4's Captain Alan Burke, and Company No. 2's Donna Hitscherich) the wind conditions, with gusts over 40 knots, made the fire difficult to attack. Fortunately, a quick stop was made with the help of our tower ladder that put water on the fire from above, while firefighters on the ground fought the fire, and kept it from spreading to other nearby buildings. I am once again immensely proud of the Members of the Montauk Fire Department. Thanks to their quick response and professionalism, a quick stop to a large fire under severely adverse conditions was quelled in several hours, and, most important, nobody was seriously injured.
The Montauk Fire Department Scholarship Selection Committee met on May 12th to select this year's winners. As you may know, our Department grants four scholarships annually to deserving students from Montauk who are graduating from East Hampton High School and continuing to college or trade school. The winners will be announced in next month's edition of MFD Corner.
On Tuesday, March 12th, the Montauk Firehouse Parking Lot was the starting point for the "COVID-19 Heroes" 50-car procession from Montauk to Southampton, organized by the Chabad Centers of the Hamptons and the Chabad of Southampton Jewish Center. It was their way of saluting and thanking our heroes, our East End Fire and Police Departments and the Staff at Stony Brook Southampton Hospital for their selfless service in this difficult time.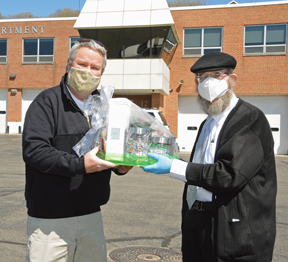 Stops included the Firehouses of Amagansett, Springs, East Hampton Village, Bridgehampton and Southampton, East Hampton Town Police Headquarters in Wainscott, where each Chief received a giant gift basket. The procession ended at the Emergency Entrance of Stony Brook Southampton Hospital, where Staff was cheering. Please see the photos here by MFD Honorary Chief Richard Lewin.
That's all for June MFD Corner. Stay safe and sound. Until next month…
~ David Ryan, Chief, Montauk Fire Department
https://www.montaukfiredistrict.org
A Thank-you from Atlantic Bluffs
Our Gratitude to the Montauk Fire Department!
The owners of the Atlantic Bluffs would like to extend out deepest gratitude to the Montauk Fire Department, for their dedication and professionalism on May 9th, as an accidental fire erupted at our complex on Old Montauk Highway.
The Montauk Fire Department risked their lives that evening to save our buildings. A gale warning was in effect causing exceptionally strong winds, however, you were able to stop the fire from spreading much farther.
In these times of COVID-19, with limited manpower everywhere, you reached out to all local Fire Departments including Emergency Medical Service Personnel (EMS), Amagansett Fire Department, as well as a rapid intervention for East Hampton and Sag Harbor Fire Departments. Your quick response, and coordination of an effective plan, allowed the structure of many other buildings and units to be saved.
Thank you for your service and devotion.