Hello, and welcome to this month's edition of Montauk Fire Department Corner. I am happy to report that things are starting to get back to normal at the Montauk Fire House. I know it has been a long siege over the last fifteen months, but it is really feeling like we are turning the corner on this pandemic. I am immensely proud of all the men and women of the Montauk Fire Department, particularly our ambulance personnel who have never wavered in taking care of their patients in a caring and safe manner.
I would like to take this opportunity to congratulate the four Montauk Fire Department scholarship recipients for 2021. These four students have recently graduated from East Hampton High School and have been awarded $3,000.00 each per year through the Montauk Fire Department's Scholarship Program. This program has been assisting Montauk students with their continuing education since 1970. Also, a special thank you to Mr. Harold "Herb" Herbert who has been the chairman of this committee since its inception. Please enjoy the photo above of the students being congratulated by me, First Assistant Chief Scott Snow, Second Assistant Chief Ken Glogg, Scholarship Chairman Herb Herbert, and scholarship committee member Ed Ecker Jr. Best of Luck to all!
The proud recipients are:
1. Catherine "Cloe" LeFarve who will be attending University of Louisiana in Baton Rouge, LA
2. Jessica Guallpa who will be attending John Jay University in New York City
3. Dawson Lenahan who will be attending SUNY Polytechnical in Utica, NY
4. Ethan Stein who will be attending the University of Louisiana in Baton Rouge, LA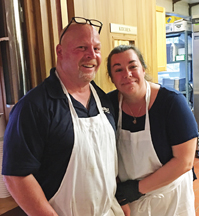 On Saturday, May 22nd, Company No.6 held a dinner at the fire house for their members and guests. It was a wonderful time with a delicious dinner prepared and served by Ex-Chief Joe Lenahan and his lovely wife, Eve. Please enjoy the photographs of this event provided by Honorary Chief Richard Lewin.
I would like to thank the members of our Ambulance Company Co. 4 for conducting a training session for our Junior Fire Fighters in June.
I think it is wonderful that our busy volunteers take time to teach and mentor our Juniors. It is a particularly valuable program that continues to get better when everyone helps.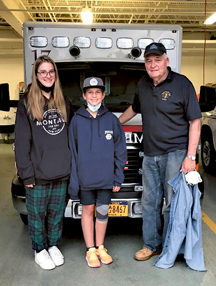 Please enjoy the photos taken by EMT Sue Farnham of Company No. 4 Members training Sara and Carli Stuckart in ambulance/EMT operations.
That is all for this month. I hope that everyone has a safe and fun July 4th weekend. I look forward to bringing everyone up to date again in our August edition.
~ Mitchell Valcich, Chief, Montauk Fire Department
https://www.montaukfiredistrict.org/