Photos by Richard Lewin Professional Photography (soniboy@aol.com)
Welcome to this month's edition of the Montauk Fire Department Corner. I hope everyone had a safe and fun filled Columbus Day Weekend and Halloween.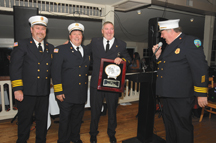 As I am sure you have noticed, things around Montauk have slowed down a bit since Labor Day weekend, but not as much for the Montauk Fire Department. Our calls for service have slowed down, but are still consistent with previous years. We have had some special events I'd like to tell you about.
Last month I mentioned how proud I am to be the Chief of theMontauk Fire Department and how fortunate I feel to lead such an amazing group of personnel. This month I had a chance
to celebrate with the men and women of the Department and their spouses, girlfriends and boyfriends. On Saturday, October 13th we held our annual Montauk Fire Department Inspection Dinner at Gosman's Restaurant. It was a great evening of fun, laughter, dancing, and, most importantly, honoring the men a nd women of the MFD. Itwas a traditional Inspection Dinner with all members dressed in their Class "A" uniforms. As always, the highlight of the evening was my joining First Assistant Chief Dave Ryan, and Second Assistant Chief Mickey Valcich in awarding the following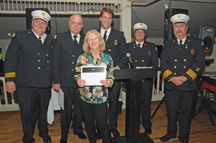 for their special performance during 2017:
Fireman of the Year – Don Schnell
EMT of the Year – Sue Farnham
Company of the Year – Company No. 2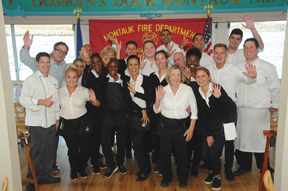 Please enjoy photos from the Dinner provided by MFD Honorary Chief Rich Lewin.
On Wednesday, October 17th we celebrated Fire Prevention Month with the students at the Montauk Public School. All the students from Pre-K through sixth grade participated in this outdoor event. As part of the demonstration, MFD Ex-Chief Mike Mirras was repelled from the top of our tower laddertruck, to the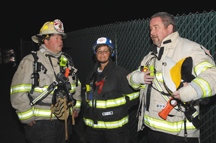 delight of everyone there. This event also included hands on training in putting out a fire, and a tour of several pieces of apparatus that we brought to the School. It was a great day and it is always nice to be able to teach our students about fire safety, and developing good safety habits.
On Monday, October 22nd the Montauk Fire Department conducted
a full department drill at the New York State Montauk Downs Golf Course. As you may be aware, the clubhouse at Montauk Downs is one of the largest structures in Montauk,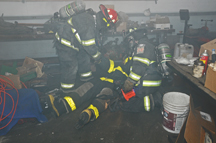 so it was beneficial to be able to get our personnel first-hand experience at the facility. It was a very productive drill, featuring techniques in dealing with airborne gases. Please enjoy the photos provided here by Honorary Fire Chief Rich Lewin.
That's it for this month's edition of the Montauk Fire Department Corner. On behalf of the men and women of the Department, I'd like to extend our wishes for everyone to have a safe and thankful Thanksgiving. See you next month.
~ Vincent Franzone,
         Chief, Montauk Fire Department