…Photos by Richard Lewin Professional Photogrphy (soniboy@aol.com)…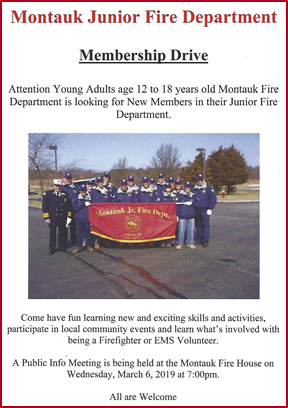 Welcome to this month's edition of the Montauk Fire Department Corner. I hope everyone is having a nice winter. The weather has certainly been nice for a Montauk winter, and spring is just around the corner.
There is a lot happening at the MFD, so there is a lot of news this month. First of all, I am sad to report the passing of Judy Blake. Judy was a past member of the Montauk Fire Department's Ladies Auxiliary, and wife of fireman Ron Blake. Judy was a great lady and will be sorely missed by all.
On Thursday evening, January 10th members of the Montauk Fire Department responded to  a report of smoke in the tallest structure in Montauk, known as The Tower, at the intersection of South Edgemere Street and South Euclid Avenue. Upon arrival there was heavy smoke in the first few floors of the eight story structure and, through further investigation by our firefighters, it was determined that the source of the smoke was an electrical fire in the basement. The fire was successfully extinguished and the smoke was ventilated from the building. I want to thank the men and women of the Department who responded that very cold and windy night. Great job, well done.
On Friday, January 18th we conducted mandatory training for the Department's members during monthly fire school training. Topics such as hazardous materials, blood/airborne pathogens, and sexual harassment were discussed, along with other useful topics.
I would like to take this opportunity to congratulate the following fire fighters who have successfully completed their Fire Fighter One course: Heather Matthews, Dan Farnham, Joe Ferrero, and Joe McDonald.
The Montauk Fire District Commissioners are exploring the idea of purchasing a new ambulance for our community. To this end a committee has been selected, led by Chairman, and Ex-Captain of Company No. 4, Alan Burke. I will keep you updated on the committee's progress as we move ahead.
On behalf of the officers, men and women of the Montauk Fire Department I would like to congratulate Gordon Ryan on being selected this year's Grand Marshal of the Friends of Erin's annual Montauk Saint Patrick's Day Parade on March 24th. Enjoy the march, Gordon, and be certain that the Montauk Fire Department will be marching right behind you.
This year Montauk Fire Department Corner will regularly offer statistics that I hope you find interesting. One interesting statistic is that, after a steadily increasing number of ambulance calls over the past few years, in 2018 we actually had 62 fewer calls than in 2017 with a total of 710. I also think it is important to report that the three highest responders in of the ambulance squad were Captain Dustin Lightcap with 311 calls, Lieutenant Robert Mautschke with 245 calls, and EMT/Department Chaplin William Hoffman with 224 calls.
Montauk Fire Department Profile: Fireman Bob Prado
If you've been around Montauk for any length of time, you know Bob Prado. He is one of the three Prado brothers who own and operate Marshall & Sons on Main Street, in the heart of Montauk. Bob is a locally born and raised Montauker. He graduated from Montauk Public School and East Hampton High School, and served in the United States Army for three years, including over a year in Vietnam. Bob and his wife Elise Burke Prado are the parents of two sons, Robbie and Brendon, and grandparents of five. Fireman Prado is celebrating his 50th year as a volunteer in the Montauk Fire Department. Always a dedicated member of Company No. 2 his entire time in the Department, he is proud to have been selected twice as our Fireman of the Year. His dedication to the Montauk Fire Department is understandable. Bob's father Marshall Prado, Sr., and his brother Ed are Ex-Chiefs of the Department. I would like to thank Bob for his dedication and for all the time he has spent volunteering. I look forward to continuing to work with Bob in the future.
Until next month,
                ~ David Ryan, Chief, Montauk Fire Department