…Photos by Richard Lewin Professional Photogrphy (soniboy@aol.com)…
Welcome to this month's Montauk Fire Department Corner. I hope everyone had an enjoyable and safe Passover and Easter. I'm sure you will all agree it's nice to start feeling the warm weather and to see more and more people coming back to Montauk. This is probably a good time to remind all our friends who are returning and opening their homes in preparation for the summer to be sure and check the batteries in your smoke detectors and make sure your in home fire extinguishers are up to date.
Thanks to the citizens who took the time to visit us on April 5th for an informational meeting on joining the department as an EMT. It's important that we stay ahead of the curve and continually recruit
candidates to join our ranks to protect and serve the community of Montauk. A special thanks to Lt. Bob Mautschke for heading up this endeavor.
In mid-April the Montauk Fire Department was the venue for the Friends of the Montauk Library fund raiser. It always makes me feel good when outside organizations use our facility to further their cause. Please enjoy a few photos of this event provided by Honorary Fire Chief Richard Lewin.
Congratulations to the following Officers and Firefighters who recently completed two qualification courses at the Suffolk County Fire Academy in Yaphank. The first course was Initial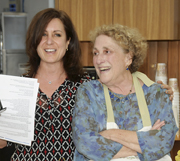 Responder, andthe second course was Introduction to Fire Officer. Both courses are prerequisite courses for personnel to become Chiefs in the fire service:
First Assistant Chief Mickey Valcich  •  Captain Ed Stein  •  Lieutenant Tim O'Rourke  •  Firefighter Jim Wright  •  Firefighter Mike Martinson  •  Firefighter Ken Gajdusek  •  Firefighter Joe McDonald
The Department Fire School and training for the month of April included videos and discussion about brush fires, including each company's work on their individual expertise in fighting fires, supplying water, emergency medical services, extrications, traffic control, etc.
Department statistics for March include:  44 calls for service during the month of March, compared to 35 calls for service for March 2018. Thirteen of these calls were between the hours of 8:00pm and 6:00am. There were four fire calls, three of which were structure fires of different degrees. Four of the EMS calls were drug and/or alcohol related, and our top three responders for the month of March were Dustin Lightcap with 23 calls, Chris Waterman with 17, and Dick Monahan with 13 calls.
Montauk Fire Department Profile
This month's Montauk Fire Department Profile is about a local Montauk man whom I'm sure most of you know, Peter Joyce.  Peter was born and raised in Montauk, graduated from Montauk Public School, East Hampton High School, and Oswego University. He joined the Montauk Fire Department and has been a very active member for 48 years. He has spent his entire career as a member of Company No. 2. Pete served as the Lieutenant and Captain of Company No. 2, and is also an Ex-Chief of the Montauk Fire Department. Peter's father Sam Joyce also served as the Chief of the Montauk Fire Department in the 1960's, and Peter's son Pete Jr. is currently an active member of Company No. 2. Peter has owned and operated his own landscaping contracting business for as long as he's been a fireman. He and his wife Annie also own Pete's Potting Shed in Montauk.
Their daughter Shelby is a marine biologist working in San Diego, California. Over the years, Peter has served on many Fire Department committees, including Chairman of the important Bi-law Committee. His most important current role is Emergency Preparedness Coordinator for the Department. Another source of pride for Peter was his role as one of the last active Firefighters airlifted with emergency equipment to Buffalo, New York, to assist during the 1978 blizzard. It is a pleasure to share this information with our readers. I think you will agree that it shows the level of commitment, and volunteerism that Ex-Chief Peter Joyce, and the Joyce family have shown to Montauk for so many years.
That's all for this month. Have an enjoyable and safe Memorial Day weekend. I look forward to reporting again to you soon.
                ~ David Ryan, Chief, Montauk Fire Department