…Photos by Richard Lewin Professional Photography (soniboy@aol.com)…
Happy New Year, and welcome to the first edition of the Montauk Fire Department Corner for 2019. My name is David Ryan. I am more than proud to say that, on Tuesday, January 1st, I was sworn in as the Chief of the Montauk Fire Department, along with the other Chiefs and Officers. I would first like to thank outgoing Chief Vinnie Franzone for his dedication and commitment to the Montauk Fire Department, not just while he served as Chief, but through his entire career as a volunteer in the Department. I would also like to thank the Officers, men and women, of the Department who have entrusted me to be their Chief. I look forward to working with each and every one of you in the upcoming year.
Here is the list of Officers sworn in alongside me on New Year's Day 2019, as well as photos from our Annual Installation of Officers, taken by Honorary Chief Richard Lewin.
Chiefs: Chief David Ryan, First Assistant Chief Mickey Valcich, Second Assistant Chief Scott Snow
Department Treasurer: Richard White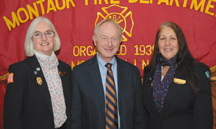 Department Secretary:  Jeanine Miedzwiecki
Company Officers:
Company No. 1: Captain Sean Tyrell, Lieutenant Eddy Stein
Company No. 2: Captain Domingo Schiappacasse, Lieutenant Francisco Estrella
Company No. 3:  Captain Robert Gosman, Lieutenant Ken Glogg
Company No. 4: Captain Dustin Lightcap, Lieutenant Robert Mautschke
Company No. 5: Captain David Marmeno, Lieutenant Timothy O'Rourke
Company No. 6: Captain Ed Ecker, Jr., Lieutenant Herb Herbert
Junior Fire Department: Captain Dawson Lenahan, Lieutenant Ethan Stein
Junior Fire Department Secretary: Catherine Lefevre
Ladies Auxiliary Members sworn in: Patricia Bonnabeau, Dorothy Malik-Atkinson, Dawn Lucas, Erika Uribe and Patricia Cusimano
MFD Profile:
From time to time, MFD Corner profiles of a member of the Montauk Fire Department, to give our Montauk community a sense of who the volunteers are who protect us. This month's spotlight will be on our new Chief Dave Ryan.
Dave was born in upstate New York, and moved to Montauk over 30 years ago. Besides his work at the MFD, he is also a local Real Estate broker and part time bartender. He has two sons, Jack and Sean, of whom he could not be more proud. Jack recently graduated from the University of Connecticut, and Sean is a student at Syracuse University.
Chief Ryan has been in the Montauk Fire Department for over 22 years. During that time, he has served as both Lieutenant and Captain of Company No. 3, and has been a driver for Ambulance Company No. 4.
Dave moved into the ranks of Chief in 2017 when he became the First Assistant Chief to then Chief Vinnie Franzone. He has also completed the introductory course and the Fire Officer One course, which are required for eligibility to become Chief.
Additionally, Chief Ryan has won awards and citations during his tenure in the Department and has served on several committees.
When asked about his recent swearing in as the Chief of the Montauk Fire Department he said, "Montauk is a special community and I consider it an honor to lead the Fire Department in protecting and serving the citizens of Montauk".
I hope you have enjoyed this month's MFD Corner. Have a great 2019!
                      ~Dave Ryan, Chief, Montauk Fire Department