by Sue Giustino
Since 2012, the catamaran Mon Tiki, has sailed the waters of Montauk much to the delight of their passengers. Captain Ryan, his wife and two children live in Montauk [since 1997] and have created –literally by hand- a fleet of unique sailing vessels. In 2011 the Mon Tiki, the first US Coast Guard Inspected Passenger Sailing Vessel built on the East End of Long Island and the only Inspected Sailing Vessel that calls Montauk its home, was built- along with a team of local craftsmen- by Captain David Rayan and his wife Amelia.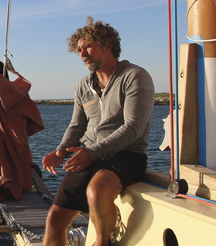 Having roots in California, growing up  just blocks away from La Jolla's famous Wind'n'Sea Beach. David's father taught him to surf and skin dive, and his grandfather taught him to fish. Sailing was introduced by a childhood friend- needless to say his life has always revolved around the water. David explained the connection with his love of surfing, which has been traced back to ancient Polynesian culture, along with his knowledge of the culture as leading to his choice of catamarans. He chose the Polynesian styled catamaran, James Wharram designed Tiki 38, because this style was far more advanced than the rest of the world.
Boarding the Mon Tiki on a breezy June evening we were welcomed by the crew, Amelia, and Captain David. The colorful beanbags lining the edges of the vessel invite you to relax and enjoy the experience. We came prepared with some appetizers and wine to enjoy while cruising the harbor and beyond the jetty with the expectation of a dynamic Montauk sun set from the water. Along with seven other passengers we got to know each other, discussed the area and all Montauk has to offer, and learned a lot about the beautiful vessel. Even with the unusual June evening chill, we enjoyed each other's company and were treated to a glorious sunset and post sun set evening sky bright with color.
As we learned during our sail, safety is their first concern.  S/V Mon Tiki is constructed in accordance with the Code of Federal Regulations (CFRs) under US Coast Guard supervision, and to their exacting Inspected Passenger Vessel standards. Every phase of her construction, from initial design, to hull construction, to rigging and deck layout have undergone rigorous US Coast Guard review and certification. Only USCG Inspected Passenger Vessels are permitted by law to carry more than six passengers, and S/V Mon Tiki is the only sailing vessel operating full-time in the Hamptons that meets this exacting standard for design and safety. As part of that certification, the Captain must do a safety lesson at the start of each trip. It was simple and to the point, but afterwards I felt comfortable knowing that we were being well cared for aboard this large vessel.
Being a low-emissions vessel, primary propulsion is provided by her powerful schooner sail plan, giving her a comfortable cruising speed of 6-10 knots, and a top speed of up to 16 kts. Auxiliary propulsion is provided by ultra-clean, ultra-quiet Honda engines, but under normal operation these engines are used for harbor maneuvers only. Once at sea, Mon Tiki is a sailing vessel. On the evening of our sunset cruise, it was quite windy, yet during the sail we enjoyed a smooth ride as we were lulled by the soothing sounds of wind and water. It was a perfect relaxing evening- if you haven't already, you should give it a try.
In all, the Montauk Catamaran Company has built three catamarans, all available for midweek or weekend day or sunset trips, 3 hour sail and swims, private charter, special occasion or corporate events. Visit their website for information and booking: https://www.sailingmontauk.com
Sailing Montauk/Mon Tiki is a family run, community-oriented business. Amelia runs the web site, and David takes the photos. "This is our life, our livelihood, and our passion. Every day on the water I go a little deeper into my love affair with wind and waves, I learn another lesson, discover something new about the place we call home. I'd like to personally invite you to come sail on Mon Tiki and continue that voyage of discovery with us." Captain David Ryan