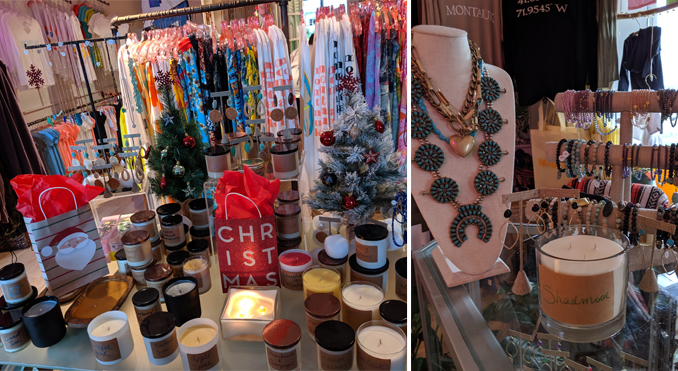 by Sue Giustino
Jewelry, Bags, Clothing, Gifts and more….
Located on the corner of South Edgemere and South Emerson, across from Royal Atlantic, the new shop, MomTauk, offers a large selection of Montauk and Momtauk items great for holiday gift giving.
Shopping for the holidays just got a lot easier. In her eclectic shop, Mary J offers creative gifts for everyone. The clothing includes unisex sweatshirts, shorts, tops, hats, and even a cute selection for infants.   'We Have to Tauk' –  'Momtauk'  –  '11954'  – 'Babytauk'… and more catchy logos adorn a variety of styles and colored apparel.
Looking for that unique gift for the person who has everything? There's a collection of recycled billboard bags: surfboard bags, day bags, and totes.  The best part is that no bag is the same as they are all fashioned from different billboards.
Handmade candles in a variety of scents including holiday, floral, and citrus can be found in large and small jars, and even hand carved wooden bowls.  Beautiful to look at and smell. In addition, other handmade items include frames, beach glass chimes and natural wood key holders.
Along with the vast array of necklaces, bracelets and rings, there is an impressive turquoise jewelry collection. With styles to match many tastes, jewelry always a great gift idea for yourself or someone else.
In the back of the store is a Studio Hair Salon. With over 30 years of experience hairstyling in Montauk, Mary offers her skills as a color specialists, hair dresser, and doing make-up application for individuals, special occasions, as well as bridal parties. She also has a line of hair care products for sale.
Coming soon: Mary is planning to expand the services to include facials, waxing, massages, and spray tans. 
For appointments call: 631-461-3984 or check out the website at www.momtauk.com.