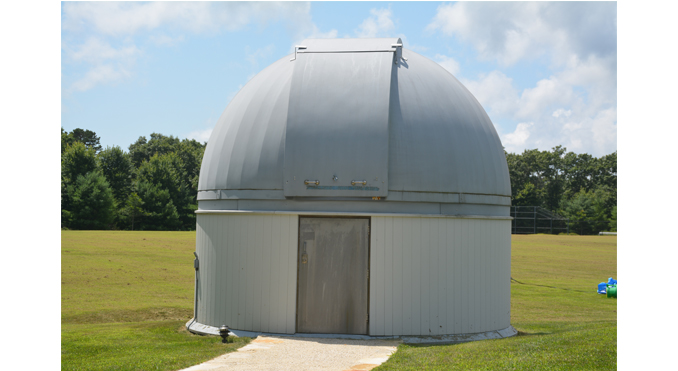 by Patria Baradi Pacis
In spite of the pandemic and wannabe astronomers unable to attend stargazing parties at different venues of Long Island, the Hampton Observatory (HO) formerly known as the Montauk Observatory has been busy offering virtual talks through the internet given by professional volunteers. Kudos to Executive Director Donna McCormick for keeping us informed regarding future events.
My husband and I and our black lab Princess who live in Montauk, a designated dark sky park named by Dark Sky Advocate, Susan Harder, were able to witness the Leonids showers last November 16-17 at 3:00 a.m. with 5% percent full moon. Armed with two chaise lounges, two fleece blankets and hot cocoa drinks, the three of us looked up from the porch waiting for one coet to appear. Although we only saw one streak across the sky, we also saw the Big Dipper, Little Dipper, the three stars of Orion, and the Milky Way.
For those who missed the discovery of Comet NEOWISE (aka C/2020 F3) by NASA's Near-Earth Object Wide-field Infrared Survey Explorer on March 27, 2020 and you missed seeing it last July 22nd when it was closest to earth (about 65 million miles away) you'll have to wait 6,800 years before you get another chance according Ms. McCormick. "The comet, which is similar in brightness to Hale-Bopp consists of frozen debris from the formation of the solar system (roughly 4.6 billion years ago with a 3 mile diameter nucleus and a tail that extends for thousands, if not millions of miles."
The next meteor shower will take place on December 13-14 called the Giminids with moon 1% full. It should be clearer because less moon means less brightness and therefore darker for your eyes. If you miss that, you can try on December 21-22 called the Ursids with 50% full moon.
Take the time enjoy a clear night. You'll find that your problems are not as bad as they seem especially knowing how vast the universe is compare to our planet. Montauk is still one of the best place on earth for stargazing.
Hamptons Observatory (HO), is a 501(c)(3) NYS nonprofit. Its mission since 2005 is to foster interest in science, through astronomy and educational programs. Lectures, star parties, portable planetarium shows are held in collaboration with other nonprofit organizations. HO has established the first astronomical observatory on the campus of the Ross School in East Hampton,, complete with Long Island's largest 20" Meade RCX400 Telescope which will soon be accessible over the internet to students, teachers, researchers and the general public. Hamptons Observatory offers all of its programs FREE OF CHARGE to encourage participation regardless of economic status. To make a tax-deductible donation please go to our website: www.HamptonsObservatory.org and click on Donate. You can Friend HO on Facebook also at www.facebook.com/HamptonsObservatory to find out about 2021's schedule.