Since Dr. Knott moved on from his practice here in Montauk there has been some reservation about the change in staff and running of the Montauk medical prac­tice. Please allow me to introduce you to the new staff of Montauk's Meeting House Lane Medical Group. Michael Genereux., D.O. completed his residency at Southampton hospital under Dr. Knott's tutelage and resides on the East End. We welcome back Travis Koke, D.O. Dr. Koke is from Hawaii but now lives in East Hampton. He is look­ing forward to catching some waves and catching up with old friends. Nancy Keegan, a Family Nurse Practitioner is a Montauk resident who brings years of experience and quality care to our hamlet. Nurses Christine Murphy and Megan Enck are both Montauk residents and have been working with Meeting House Lane for years. Cathy Nieves, R.N. shares her time and expertise in three of Meeting House Lane's busy east end offices. Also integral n the quality of care you receive is the friendly office staff. Margie Nigro, has been working for Meeting House Lane for over 2 years. Margie offers a warm greeting with a smile as well as helpful assistance at the front desk. Dawn Kiernan, began working as Office Man­ager in the Montauk office in January. Dawn has over 10 years experience in the medical field, having previously worked at New York Presbyterian Medical Center before relocating to the East End.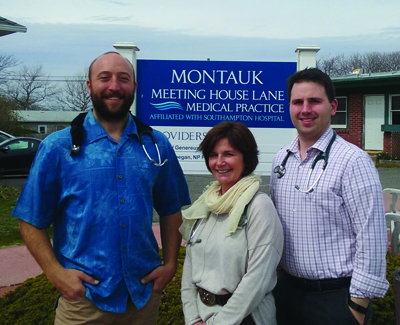 The new staff is eager to build a relationship with patients, which is obvious from the moment you walk through the front door. The family friendly atmosphere is evident from the greeting and willingness to serve each patient as if they are the most important person in the room. From my conversations with all of them, it is apparent that they truly enjoy working together for the community they love and caring for us when we are not at our best.
A goal for the medical practice was to find the right medical providers for Montauk and the unique needs of our community. It seems they have achieved their goal! Both Ors. Genereux and Koke trained with Dr. Knott and share his commitment to our community and have our best interests at heart. While speaking with the providers, I found their respect for each other and de­sire to care for their patients inspiring and heartwarming. From making house calls when necessary to providing help to families making difficult end of life decisions they are dedicated to their calling. As Nancy put it, "we are the gatekeepers to care, and being part of the Medical Practice where collaboration is key, we are keep­ing the lines of communication open between specialties and ensuring the best care possible for our patients:· expanding Meeting House Lane The Meeting House Lane Medical Practice and Southampton Hospital affiliation affords patients a wealth of medical specialties available for consult when necessary.
Up to date with your preventative screenings, med­ical wellness visits, and your annual exam? When was the last time you had your blood drawn? Take the first step in taking better care of yourself and your loved ones and call 631-668-3705. The office is open M-F from 9-5. Nancy Keegan, FNP sees patients Monday-Thursday. Dr. Genereux practices on Monday, Tuesday, Thursday and Friday. Dr. Koke is practicing in Montauk on Thursdays and Fridays and will also be seeing patients in the East Hampton Urgent Care at 470 Pantigo Road. House Lane