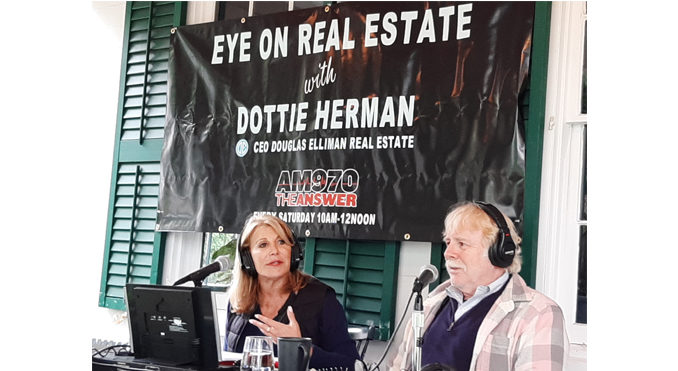 by Debbie Tuma
The Maidstone Hotel and Restaurant has long been a gathering place for the Hamptons International Film Festival events. On Friday night, they hosted an afterparty for the opening night film, "The Irishman," starring Robert DeNiro, Leonardo DiCaprio, and others. Maidstone Restaurant Manager John Proctor said cast and crew from the movie were there, including James Waterston, Katherine Narducci, and Jane Rosenthal. Also Film Co Producer Linda Knoll, DJ Angelica Morrow, and singer/songwriter Taylor Clarke Bennett.
Throughout the weekend, they held parties and brunches for festival and other events. Proctor said that stars also stayed at the hotel, including Alfre Woodard, who was around much of the weekend, where she spoke on the Bay Street Theater stage on Saturday, at "A Conversation With."
Also, on Saturday morning, another celebrity, real estate mogul Dottie Herman, hosted her popular radio show, "Eye On Real Estate," on the front porch of the Maidstone Hotel. She had on guests including Steven Gaines, Hamptons author of the famous "Philistines at the Hedgerow: Passion and Property in the Hamptons," and many other books; and also real estate attorney Andrew Lieb. Herman's show airs on Saturdays between 10 am and 12 Noon, on WNYM AM 970 The Answer, and as a podcast.
Dottie Herman is the CEO of Douglas Elliman, ranked #4 among U.S. Real estate companies. She is a New York success story, born in Brooklyn and growing up in Long Island, and entering the real estate field after college in 1978. She proceeded to climb the real estate ladder, until she went to the pinnacle of the industry, as the most successful woman.
Along with a panel of real estate experts, on her radio show she provides insight and tips on various aspects of the field, including the latest market trends, mortgage news, and answering all your questions. Call in at 866-970-9622.