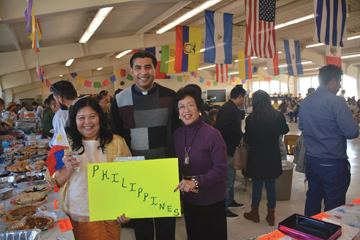 by Patria Baradi Pacis
In November St. Therese of Lisieux Catholic Church held its annual International Food Festival at the Parish Center sponsored by the English and Spanish speaking groups.  Volunteers served more than 300 attendees of their favorite foods such as lasagna, arroz con pollo and roasted pig including desserts such as cannoli's, banana plantains, assorted cookies, pies and cakes. Countries such as Chile, Colombia, Dominican Republic, El Salvador, Ecuador, Ireland, Mexico, Philippines and USA were represented by flags that hung above the school ceiling as well as on each table with the names of each dish labeled. There were live musicians and Spanish singers throughout the event accompanied by dancers in colorful Mexican costumes who danced the Jarabe Tapatio or Mexican Hat Dance and other Spanish dances.  Cathy McGuire, Helen Searing and Cristina Sedigo who represented the USA, performed the Western Texas Freeze Line Dance with a flair.
Father Ciya Thomas blessed the food and third grader Faith Mullany opened the program by singing "America The Beautiful." Filipina Cristina Sedigo, dressed in formal attire, thanked everyone for coming and sang "The Lord's Prayer" in Tagalog, the main dialect of the Philippines.   She also brought chicken adobo, empanadas and leche flan for others to enjoy.
I am sure that Padre Jesus Arellano, Father Ciya Thomas and especially Father Thomas Murray who is away on retreat are happy to know that the event was a great success.  There is a lot to be grateful this Thanksgiving holiday season since the proceeds will help heat the Church this winter. Congratulations for a job well done and Merry Christmas to all!
For more info kindly contact  631 668 2200 or check the website: sttheresemontauk.weconnect.com or write St. Therese, PO Box 5027, Montauk, NY 11954