by Sue Giustino
INTERBORO to perform at Friends of Erin Event to benefit "Be The Match" at the Montauket on August 10th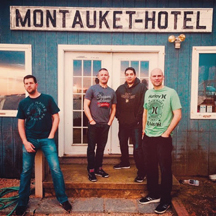 Bethematch.org is a registry to match donors of bone marrow with recipients in need.
If you happened to be at the Montauket on July 21st you know how much fun the band INTERBORO is. They never stop playing, dancing and getting the crowd to join in. Even though the sunset was a bit cloudy that night, the crowd stayed enjoying the music.
A few days later, I was fortunate to chat with the lead singer and guitarist Giancarlo Negovetti. He enthusiastically told me the story of his band, their families and friends, and how one special friend "Erin" lost her life to leukemia. What has evolved since their tragic loss is nothing short of beautiful. Friends honoring the life of a loved one by spreading the word and advocating for an organization that has the potential to save the lives of leukemia patients. Unfortunately for Erin, there was not a bone marrow match soon enough to save her, but in her memory this band and their extended 'family' is working to ensure that others can be more fortunate.
Giancarlo's enthusiasm about Erin and playing in a band is contagious, all you have to do is have a conversation with him or watch him entertain a crowd and you're hooked. He and his friends-Brian Palazzola – vocals/drums, Claudio Lescano – Lead Guitar, and Craig de Lauzo-love to play and entertain, and they really believe in their cause. Each August around the 9th, Erin's birthday, they come to Montauk and play at the Montauket in her honor. Why Montauk? Well that's another unbelievable and inspiring story.
Interboro started playing in Montauk a few times a year about 8 years ago, when their friend Ralph moved here and at times he's even their 5th member. Erin grew up vacationing in Montauk, as did some of her friends, and she was also friends with Ralph -so there were deep connections already.
Then in March of 2014 on St. Patrick's Day, while Erin was in the hospital and many of her friends were visiting, they happened to look up at the TV just when the Montauk Friends of Erin marching by in the NYC St. Patrick's Day Parade.
Unfortunately Erin passed away a few days later. Remembering the parade and her love of Mtk, the group decided to honor her memory out here by playing on or near her birthday. Giancarlo said it started as a fun way to honor her life with just some 'Friends of Erin', but it has grown and developed into an annual event. Each year many of their families and friends make a point to get camp sites at Hither Hills, wear 'Friends of Erin' t-shirts, and descend upon the Montauket to honor Erin, raise money and awareness for BETHEMATCH.ORG, and have some fun with the band.
This year's event will be on Friday August 10th- so come on down- rain or shine! The Show celebrates Erin's love of life, music and Montauk- as well as benefits "Be the Match" – which inspires registry with the National Marrow Donor Program – the largest and most diverse marrow registry in the world to help save lives through transplants.
About the band: Interboro is a NYC area rock band performing live shows all year long- from Manhattan to Montauk. All New York City natives, the band's members have played frequent gigs around the area for the past ten years featuring originals and covers. Their original writing is a collection of stories and experiences of growing up in New York with influences ranging from the Indie/Alt Rock of Ryan Adams and Pearl Jam to Classic Rock of the Beatles, Tom Petty and the Who. Two signature original songs – MTK & Ride – are directly inspired by their experiences in Montauk, and are regularly featured at Montauk shows. For more information, visit them on Facebook or Instagram @InterboroBand.
They hope to see you there, and send a big thank you to Montauk for all the great memories and those yet to come!