From their boats to your table…that's what Inlet Seafood offers at their picturesque location perched above the dunes overlooking the Montauk Inlet. Whether enjoying the spacious bar area, one of the outside decks, or the dining room, both the view and the food are memorable. Open Valentine's Day through Thanksgiving weekend the Inlet Seafood Restaurant & Sushi Bar is one of Montauk's finest!
After an amazing sunset we were seated by Juanita, the lovely hostess, in the main dining room to enjoy the specialties of Chef Larry Wallace. Larry's been working for the six owners and their wives for about six years and is a master of culinary composition utilizing the fresh daily catch of their boats. After ordering some starters, we were informed by our waitress Dotty that Chef Larry had some ideas of his own and would be adding to our choices; so much for that diet!
The dinner menu offers a large assortment of Appetizers, Soups, Salads, Sushi, Sashimi, Nori & Specialty Rolls, Entrée from the land and sea, as well as nightly specials. Having already tasted many of the dishes, we tried to venture into some new areas and specials. However, to start we had three of our favorites house specialties; the Parmesan Crusted Calamari served crispy and tender with marinara and spicy mayonnaise sauce, the Jumbo Shrimp Cocktail which are cold, crisp and  fresh, and the Tuna Tartar presented inside an avocado heart and mixed with mango and special sauce. Each of these appetizers is fresh and delicious, and always available on the menu. The two specials of the evening that we had were the Crispy Wonton Bass Tacos and Baked Montauk Pearl Oysters.  The wonton taco shell was crispy and easily able to hold up the generous portion of bass and greens inside, while the oysters were gently baked with a light Blue Cheese & Panko topping; a perfect complement to the fresh oysters.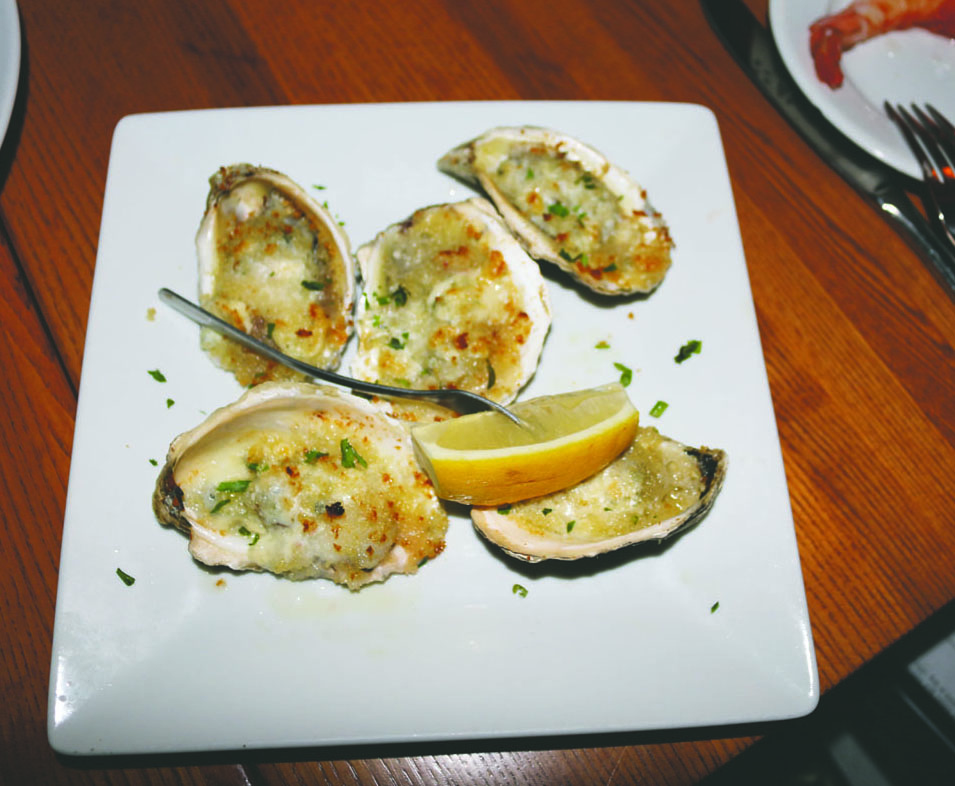 Next we enjoyed the warm Sunflower Seed Crusted Goat Cheese Salad with field greens, and roasted red peppers with light basil vinaigrette. The goat cheese ball is crispy on the outside but inside awaits warm creamy goat cheese making for a unique and flavorful salad. The Grilled Portobello Mushroom Salad with field greens, roasted red peppers, black olives, cherry tomatoes, and red onions with a light balsamic reduction is highlighted by the perfectly marinated and sliced grilled portabella. The salads are always fresh and each offers a unique combination of ingredients with a light application of dressing so to enjoy all the delicious flavors.
Choosing an entrée always depends upon what the diner is feeling or has a craving for. However, making a choice can be tricky due to the full Sushi Menu which is prepared to order with fish that was probably swimming yesterday, the complete list of nightly specials that always sound and look delicious, and of course the eclectic regular menu. So, if it's, raw or cooked fish, lobster, shrimp, scallops, pasta, steak, chicken or even a hamburger you'll find it at the Inlet Seafood.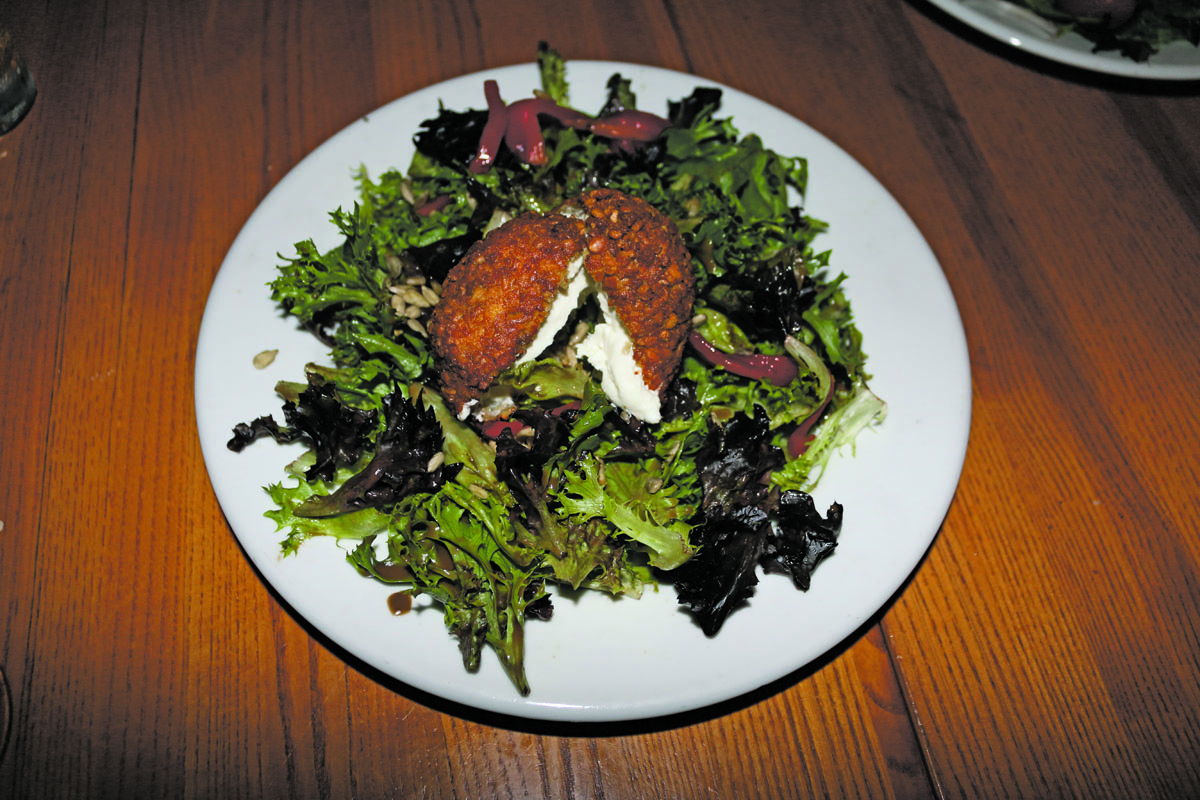 For our main course, Chef Larry chose two of the evening's specials; Roasted half LI Duck and the Whole Black Sea Bass, as well as two house favorites; Grilled Prime Sirloin Steak and the Pan-Seared Sea Scallops.  The Roasted Duck was cooked with an herbed orange glaze that crisped perfectly while keeping the natural duck flavor, tender and moist and served with crispy roasted potatoes and grilled yellow and green zucchini.
The Whole Black Sea Bass was picture perfect; sitting atop sautéed kale and basted with a sweet and sour sauce the combination of flavors were dynamic.  Medium rare-to order, and presented with fresh grilled asparagus, baked potato, and large lightly battered crisp onion rings balancing on top of the steak, their marinated Grilled Prime Sirloin is wonderful; a perfect choice if you're in the mood for steak.  Finally, perched upon mashed Sweet Potato Puree with Rainbow Swiss Chard, the Pan-Seared Sea Scallops are fresh, flavorful, tender and expertly complimented with the potato-chard accompaniment.
Dessert is always an option, however not for us. We couldn't eat another bite even though we were quite tempted when we heard the list: Cookielicious, Key Lime Pie, Warm Apple Cobbler a la mode, Warm Double Fudge Brownie, and seasonal Cheesecakes. With the change of season, we'll be looking forward to additional specials as well as their popular Pumpkin Martini.
The Inlet Seafood Restaurant & Sushi Bar will continue to be open seven days through Columbus Day – After that they will be closed Wednesdays and Thursdays through Thanksgiving weekend. Although they won't serve on Thanksgiving they'll be open Friday, Saturday, and will close for the season after lunch on Sunday.
"Respect the Ocean > Harvest the Bounty >
Feed the People"Inlet Seafood Restaurant & Sushi Bar
541 East Lake Drive, Montauk
631-668-4272
www.InletSeafood.com