Inlet Seafood Restaurant may be a bit off the beaten path but plenty of locals and visitors are drawn to this charming water front locale that serves a wide selec-tion of meat and seafood apps and entrees and includes a full sushi menu. Tonight is no exception and the place is packed-at the bar, main dining area and on the two outdoor decks. Diners are soaking up the panoramic views of Montauk Inlet, Mon-tauk Lake and Fort Rood Bay which only complimen. the food served here. As the Inlet is owned by commercial fisherman from Montauk, you lmow they are serving up the freshest catch possible.
My black cherry cosmo hin the spot as we wait on our first course. I have a very special group dining with me tonight, one celebrating a birthday, and from the sighon and smells of what's cooking here I know we are in for a terrific meal. We weren't disappointed!
We MiX up our appetizer selection to include some of the basics and a few new twis.. The fresh parmesan crusted calamari, lightly breaded and seasoned, is per-fectly cooked and we barely touch the chili powder aioli and marinara sauce, though they are tasty We devour the beautifully plated Lady Slipper sushi roll with shrimp tempura, spicy tuna, avocado and sweet chili sauce wrapped in pink soy bean paper. The fish was fresh with a terrific blend of flavor and textures and became the table favorite. Our warm sunflower seed crusted goat cheese salad was a generous por-tion, with roasted peppers and adequately dressed in a basil vinaigrette. Lastly, we dived into the tuna tartar appetizer, prepared quite differently than the norm, with mango and a special sauce. A delightful sweet mste and presented creatively within an avocado shaped heart and sauce heart design. Appetizers and salads are priced between $7 to $15 dollars.

As for our main entrees, I was happy to indulge in their seared scallops over sweet potato puree and rainbow Swiss chard, enjoyed by all, with perfect portion size. It was just right for one person but on my next visit I'll be ordering it as an appetizer and share with fellow diners as it was incredibly msty and again gained an 'ahhhh' even as it was set down on the table. I would suggest the shrimp and scallop penne pasta with succulent large chunks of seafood to those, like me, that like and ran consume a rather large serving or if you would like to bring a portion home. There were smiles all around for the golden brown saute flounder piccata, with olives and capers, piled high over garlic mashed potatoes and saute fresh spinach. An order of the traditional chicken Mi-lanese rounded out this fine meal with fresh greens dressed with a balsamic reduction, over a perfectly pounded chicken cutlet. We were be-yond satisfied with the selection, tastes, portion size and presentation. Dinner entrees are priced between $20 to $32 dollars.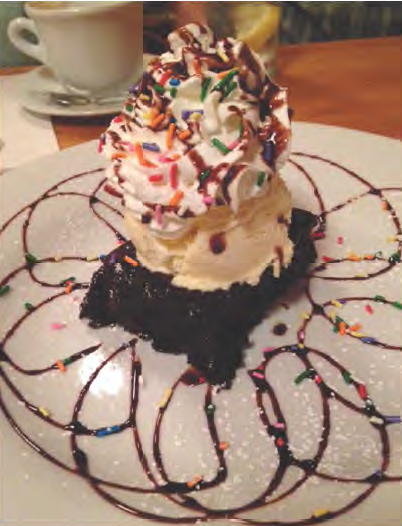 I rarely leave a restaurant after dinner with-out trying one dessert, since I visa Inlet multiple times a season (don't miss the fish burrito for lunch!) and have tried their key lime pie which is a "go-to" for me, the table settled upon the double fudge brownie with vanilla bean ice cream and high tower of whip cream. A traditional favorite, rich in flavor and delightfully sweet, that capped off a wonderful meal from start to finish. Dessert options ranged $4 to $0 dollars. Overall the service was fantastic (thank you Becky!), fast, precise, checking up enough and offering suggestions. The food and service truly matched the splendid view! Inlet Seafood Restaurant, 541 East Lake Drive, Montauk. (631) 668-4272. Summer: Open Noon to 10 pm, lunch and dinner Kids menu. No reservations taken. Open year round-call for seasonal hours.