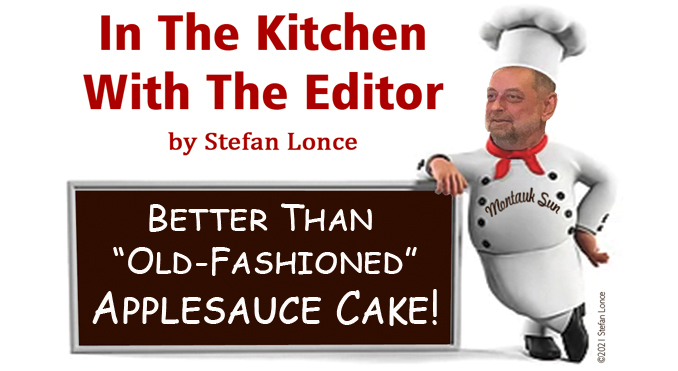 What do I mean by "better than old-fashioned" applesauce cake? Well, I remember applesauce cake when I was growing up as a very dense, unsweet, and, quite frankly, flavorless confection. Nobody looked forward to it. If it weren't for "Cool Whip" I don't think neither my brothers nor I would have eaten it at all…and that's saying a lot.
Well, the big jars of applesauce were on sale at the local supermarket. Being a bargain hunter, I couldn't resist. But now, what to do with all this applesauce? After I opened a jar and had my fill, I new it would end up in the back of the fridge until it went bad if I didn't use it right away. All I could think of was applesauce cake…but I had to make it lighter and more flavorful.
After a try or two, I came up with the following recipe. You'll notice that it has a lot of cinnamon and baking powder…yes, that's tablespoon, not teaspoon. I also added salt. It acts as a flavor enhancer.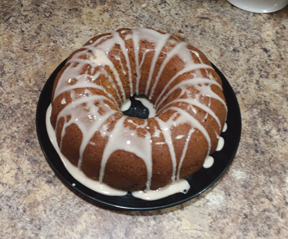 Those changes took care of the heaviness and lack of flavor from the original recipe. This cake comes out with a light, yet moist crumb and is full of cinnamon flavor. One important tip…if your cinnamon has been sitting in your cabinet for a year or more, invest in a new jar. The store brand is fine. It doesn't need to be expensive, just fresh. Believe me, it makes a difference.
This is the perfect cake for "add-ins" like raisins, nuts, dried fruits, apple, etc. Experiment! I used up my raisins on my first "experiment" so I used a diced apple. Before anyone asks, everything from my columns is eaten.  Nothing goes to waste…it all goes to "waist" and that's getting easier to see every day. LOL! Enjoy.
Better Than Old-fashioned APPLESAUCE CAKE
Ingredients
Cake:
2¾ cups flour
1 tbl. baking powder
1 tbl. + 1 tsp. cinnamon (that equals 4 tsp.)
¼ tsp. salt
2 sticks (½ pound) unsalted butter, softened to room temperature
2 cups dark brown sugar
2 eggs
½ tsp. vanilla
2 cups applesauce
¾ cup "Add-ins" (optional: add raisins, dried cranberries, chopped apple, walnuts, etc. Whatever you like…or have on hand)
Powdered sugar for sprinkling (optional)
Glaze (optional):
1 cup powdered sugar
1 tbl. (more or less) apple juice or cider
¼ tsp. cinnamon
Pinch of salt
Instructions
Preheat oven to 350°. Grease and flour a regular-size (10 or 12 cup) Bundt pan (or spray with a baking spray).
Mix together the flour, baking powder, cinnamon and salt in a bowl with a whisk until well combined.
Beat the butter and brown sugar in a large mixing bowl until well combined and lighter in texture. Add the eggs and vanilla. Mix until combined.
Add half of the flour mixture to the sugar mixture and mix until combined. Add 1 cup of applesauce and mix until combined. Add the remaining flour mixture and mix until combined. Add the remaining applesauce and whatever add-ins you're using, if any. Mix until combined.
Transfer the mixture into the prepared Bundt pan. Bake for 1 hour or until a skewer inserted in the thickest part comes out with a few moist crumbs.
Let the cake cool for an hour in the pan, then invert it onto a plate.
Meanwhile, prepare the glaze if you are using it. Whisk the powdered sugar, apple juice, cinnamon and salt together in a small bowl. The glaze should be pourable.  If it is too thick, add more apple juice, a drop at a time. Be careful, it's easy to go too far.
After the cake has cooled completely, sprinkle with powdered sugar or drizzle with the glaze on top and let it "spill" down the sides. ENJOY!