by Debbie Tuma
The 27th Hamptons International Film Festival had many diverse and fascinating movies as usual, including feature films, shorts, sci-fi films, movies about Long Island, World Cinema, Films of Conflict and Resolution, and films about Compassion, Justice and Animal Rights.  But two documentary films in this year's festival, that can be seen this fall and winter at other venues, will truly speak to the people of Montauk and the Hamptons, who love and appreciate all that the ocean gives us.
The first film, "Watson," is an award-winning documentary about the need to save the ocean life– from illegal fishing practices, the destruction of whales, the finning of sharks, and the overfishing of species like bluefin tuna. It is the courageous story of Paul Watson, a lifelong defender of underwater ecosystems and the wildlife within, a 40-year activist who has been fighting for marine conservation. Through archival footage and numerous interviews, director Lesley Chilcott tells his life story, from his service in the merchant marines to his co-founding of Greenpeace, to his leadership of the Sea Shepherd Conservation Society, an anti-whaling, anti- poaching, direct action group focused on marine conservation.
The film shows riveting footage of Watson and his team confronting whaling vessels from Europe to the Southern Ocean, shark finners from Japan and Central America, and seal hunters in Canada. They used non-violent, but aggressive tactics like standing on the ice, using their bodies to block huge ships of hunters that were trying to club seals for their pelts…and of sideswiping boats that were trying to slaughter whales or cut off the fins of sharks and throw the bodies back in the ocean to die. Watson and his crew risked their lives to fight for the survival of sea creatures all over the world, even getting arrested at times, in the process. Director Chilcott and her team captured magnificent underwater and nature scenes throughout this inspiring film, about how one man's life can make a difference in the world. Captain Paul Watson, a Canadian-American, now lives in Vermont and runs his global organization, with U.S. headquarters in Los Angeles.
Following this 99-minute film, Chilcott and Fox Deatry, a spokesperson  for the Sea Shepherd Conservation Society in Los Angeles, answered questions from the audience. They explained that this film will be seen on Animal Planet, here and in 30 countries, this fall, with dates to be announced. Paul Watson is already affiliated with this show, having had the series "Whale Wars" on Animal Planet in the past. Also after the "Watson" screening in East Hampton, Zelda Penzel presented the movie with the "Giving Voice to the Voiceless" award, which she created for the Hamptons Film Festival's film category of "Compassion, Justice and Animal Rights."
"This film is a powerful wake-up call and tribute to an extraordinary individual, while also a beautifully filmed documentary about magnificent, sentient beings that share the planet with us, creatures who are endangered by ignorance, indifference, and greed," said Penzel. "It is a story about a man who has put his life on the line to fight for whales and sea life….and raise awareness that the oceans are the lifeblood of this planet,…since the sea is home to three quarters of the life on this planet."
Another important and inspiring "ocean film" was "Maiden," a documentary about the first all-female crew to sail around the world in the 1989-1990 Whitebread "Round the World Race," out of England. It is the true story of Tracy Edwards, then only 24, and the ship's captain, who single-handedly raised the funds, with the help of King Hussein of Jordan, and put together an amazing crew of young women sailors. They not only survived the entire, brutally challenging and exhausting journey, but they came in first in two legs of the race, and finished second overall! This was the best result for a British yacht (named Maiden) since 1977, and unbeaten to this day.
This movie is so thrilling that it keeps you on the edge of your seat for the entire length…every inch of the race was captured by cameras and video, so you feel like you are onboard the yacht…sailing into some of the roughest and hardest conditions—from 20-foot waves to freezing, snowy and icy weather. At the time, no one believed these women could make it…and as it points out in the film, in case of emergency there was nowhere to go—just the open ocean. These women risked their lives to follow their dream, and show that women and men can be equal in this previously male dominated world of yacht racing.
The movie shows the life of Tracy Edwards, what made her want to do this incredible journey, and it has up-close interviews with all the crew members and footage from the actual race around the world. Following the film, Tracy Edwards herself came out to greet the audience, 30 years after her amazing feat….to answer questions from the audience. She is now married, living with her family, and after having sold the "Maiden," long ago, she got her back and restored this iconic yacht.
"Maiden" is due to come out in theaters this fall/winter. Meanwhile, Maiden World Tour Foundation was started as a charity to raise funds to keep Maiden on a world tour for the awareness of women's education. For more information or to donate, visit www.themaidenfactor.org/maiden-world-tour-club.
Another notable film in the festival, of local interest other than the ocean, was the first fully-authorized documentary on the life of famous movie director Alan J. Pakula, who lived in the Hamptons and New York City. "Alan Pakula: Going For Truth," was expertly created by director Matthew Miele, of Bronxville. This was the world premiere of the movie, which included interviews with many of the stars from his iconic films as "All the President's Men," "To Kill A Mockingbird," "Sophie's Choice," "Klute," "Presumed Innocent," and "The Pelican Brief."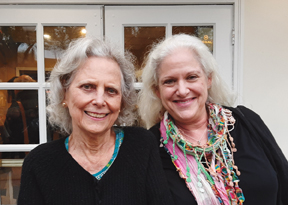 Miele delivers a deeply intimate, emotional and at times heartbreaking portrait of Pakula, who died tragically on the Long Island Expressway in 1998 at the age of 70. Twenty years since then, he spent 18 months traveling around doing 75 interviews with the stars of his films, including Jane Fonda, Harrison Ford, Dustin Hoffman, Robert Redford, Meryl Streep, Julia Roberts, Alan Alda, and both Alec Baldwin and Candace Bergen, who were both at the festival. Also in the film were interviews with Pakula's wife, Hannah Pakula, and stepdaughter, Anna Boorstin, who were both in the audience.
Director Matthew Miele said although he never met Alan Pakula, he wanted to make the documentary because "here was a director who wanted to put the story first, without bias…without any other agenda, like getting viewers and ratings." He said Pakula's family and the stars he worked with were also eager to share their admiration of  the director and his work. Miele said this film will be out in the theaters in the coming months.
Throughout the Hamptons International Film Festival, which took place in theaters in East Hampton, Sag Harbor and Southampton over Columbus Day Weekend, there were over 100 movies screened. There were also panel discussions with filmmakers, red carpet entrances by stars, and "Conversations With" interviews on stage with director Brian DePalma and actress Alfre Woodard. The Dick Cavett Artistic Champion Award went to Toni Ross, a founder of the HFF in 1993, a renowned artist, and owner of Nick & Toni's Restaurant and others.