Hopefully Forgiven has gained a lot of momentum in the last few years since they formed. I met Telly  Karoussos years before the group started and met Brad Penuel who co-leads in the band with Telly when they stopped by to jam at one of the Montauk Sun's Halfway to Summer party's. They wowed the crowd with hi energy and played late into morning! The party is in February and I was working on the 4th MMF (Montauk Music Festival), so of course we invited them to play on the main stage, Sloppy Tuna & the Montauket at the Festival.  Every show was a blowout! The band also played at this year's Halfway to Summer party, opening night of the MMF6 and this past September Montauk Seafood Festival!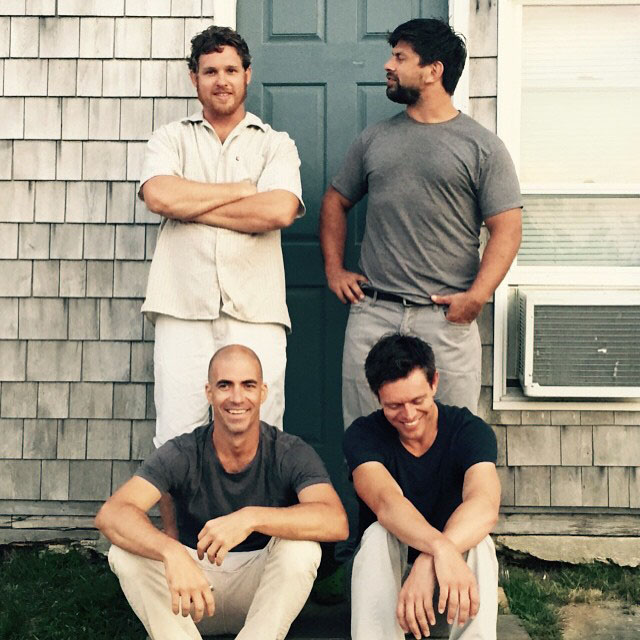 Hopefully Forgiven is a hard drivin', mellow vibin', harmony soaked roller coaster cocktail of 100 years of American spirits. Singer/songwriters Telly Karoussos, and 'Alabama Brad' Penuel (by way of Nashville) deliver big harmonies, raw guitars and authentic songwriting that transcends genre and has attracted a devoted multigenerational fan base. The brotherhood/rivalry that is Hopefully Forgiven began shortly after a chance meeting through a craigslist ad when Brad offered his Brooklyn railroad apartment to Telly in exchange for watching his dog.  After sizing each other up and realizing they shared a passion for music and surfing, Brad said "I think this will work. My house is yours– you can even play my Martin if you want….just don't touch ma boots."
Hopefully Forgiven, recently launched a campaign to fund their first professional EP, and they're asking fans to contribute through crowd-funding website GoFundMe.com.—the campaign is seeking $40,000 to record and produce an EP with five to eight songs, though Penuel says the band has enough songs for a full album, if they get enough backing to produce it.
"We're constantly writing new material," Penuel says, explaining that Hopefully Forgiven is about fun and good times, but they work incredibly hard at their music and take their performances quite seriously.
With bassist Benjamin Goodale and drummer Bryan Beyer, who just left the band after moving to Ohio, Hopefully Forgiven earned a reputation for high-energy shows full of good vibes. Their fan base grew quickly, and they even recorded a few demo songs during a live performance, but they have yet to make a fully produced record.
Now, Penuel says Hopefully Forgiven is poised to do something great. Not only are they making excellent music and working well together, the band has also attracted attention from some real heavy hitters in their business.
Among them, Grammy-nominated producer/songwriter Larry Dvoskin (The Beach Boys, Robert Plant, Sammy Hagar, Sean Lennon, Bad Company and others) believes in Hopefully Forgiven enough to produce their EP, and Billy Joel's drummer Chuck Burgi has agreed to play on the record in Beyer's stead.
With the opportunity to work with such top-shelf talent, Penuel says the band wants to make a "big push" in the coming months.
Backers of their campaign will be rewarded with various incentives based upon the amount of each donation. A $20 donation, for example, will buy a copy of the CD, while more generous donors can get anything from personalized songs, Hopefully Forgiven merchandise, show tickets and music career consultation from Dvoskin, up to a private show at a donor's home.
"Imagine helping create Music from Big Pink, or Ten or Grace," Penuel writes in the campaign, referencing some of his favorite records. "Imagine helping Bruce [Springsteen] get Greetings from Asbury Park off the ground. Imagine creating rock history—and getting a free hat!"
To help Hopefully Forgiven create their debut EP, visit gofundme.com/hopefullyforgiven.