…by Kimberly Experian
Zucchini Bread
It's zucchini season! Enjoy this end of summer squash in this easy to make bread.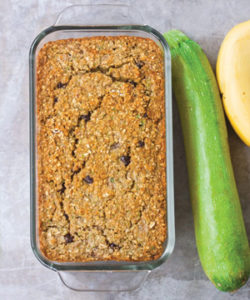 3 medium sized zucchini, grated.
6 tbsp. ground flax seeds.
1/2 cup warm water.
2 cups light brown sugar.
1/2 cup oil.
1/2 cup applesauce.
1 tsp. vanilla.
2 cups all-purpose flour.
1 cup whole wheat flour.
1 tbsp. baking soda.
1 tbsp. cinnamon.
2 tsp. nutmeg.
1 tsp. salt.
1 cup vegan chocolate chips (optional).
Grease two loaf pans. Mix together flax seeds and warm water. Add sugar, oil, applesauce and vanilla, mix well. Add grated zucchini mix well.
In a separate bowl, mix all remaining dry ingredients. Add dry mixture to wet mixture, and stir till smooth consistency. Divide batter between pans. Bake at 350 degrees for approximately 1 hour.
Enjoy! Hope you had a great summer of 2017!