Each time I visit Gurney's I'm amazed by the newest renovations that enhance the beauty of the property.  A gorgeous oceanfront resort perched above the rolling Atlantic, Gurney's Montauk, a year-round Luxury Resort and Sea Water Spa, continues to evolve with additional room, dining, spa, and amenities offerings. As a full service resort it's not unusual to find guests who have returned to enjoy the view, gold star service, newly renovated rooms, and delectable dining choices.
We arrived for our mid-week escape entering into the vast newly renovated lobby which is warm and welcoming. With the numerous completed and ongoing renovations, much of the architecture of the resort has changed. They've created a whole new updated lodging, dining and entertainment scene, as well as continuing to be part of community events on and off property.
After our welcome, we were directed to our beautifully re-designed Forward Watch Oceanfront room. The views of and from the room are breathtaking. A private terrace, bay windows, and king-size bed, combine magically with Mid-century modern fixtures evoking a sense of whimsy and nostalgia. Special amenities include a wet bar, mini fridge, Nespresso coffee machine, iPad and smartphone chargers along with complimentary Wi-Fi. Complete with an update bathroom featuring Gilchrist & Soames Toiletries and customized Gurney's Robes and Slippers, this room is both romantic and comfortable. Fortunately for us, the evening was mild so in addition to our beautiful surrounding, we were able to open our door and be lulled to sleep by the smooth sounds of the water breaking gently on the sand coupled with a lovely sea breeze.
From their Standard one-bedroom suite to the Deluxe three bedroom Beachfront Cottages, each of Gurney's 147 rooms, suites, and beachfront cottages, deliver dramatic ocean views. With a short stroll down the stairs we also enjoyed easy direct access to the 1,000-foot private sand beach.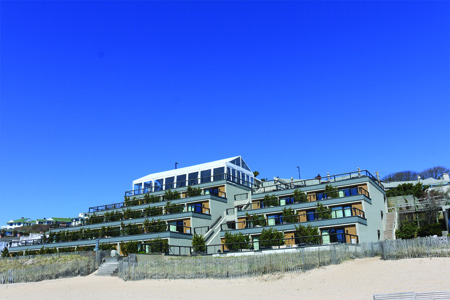 Not only are the grounds and buildings beautiful, but the staff is courteous, helpful and accommodating.  As we walked the property and eventually headed to dinner, each employee we met along the way was friendly and ready to offer assistance if needed; this was true throughout our stay, from check-in to check out.
In May 2015 Scarpetta Beach opened as one of the three new dining experiences offered at Gurney's Montauk.  Scarpetta Beach presents a new level of fine dining for Montauk. Inspired by Gurney's sprawling 1,000 ft. private beach, Scarpetta boasts an airy, mid-century modern aesthetic infused with the Indigo and seaside hues of the Resort's surroundings. The 110-seat interior dining room and private dining space is lined with French doors leading out to the restaurant's outdoor terrace, which seats an additional 100, provides breathtaking views of the Atlantic Ocean, as well as a spectacular fire-pit deck.
The new look is perfectly complemented by the new and exciting flavors of fair and libations. The sprawling bar offers an exciting list of mixology treats as well as a complete fine wine list. Dining at Scarpetta Beach is an experience to be savored. You will want to arrive ready to relax and be treated by their professional and personable wait staff, as if you were the most important patron.
True to their promise of exemplary service our waiter Angel was attentive and personable, eager to make our experience perfect while offering his expert knowledge of the menu in a friendly yet professional manner. As our drink order was taken, we were presented with fresh bread and a tasty trio of condiments to enjoy while leisurely taking in the elegant ambiance of the dining room.
Traditionally the meal is served in four courses; Primi Piatti, Paste, Piatti, and of course dessert. From Primi Piatti we enjoyed Tuna 'Susci' with marinated vegetables and preserved truffles, and the Braised Short Ribs of Beef with vegetables over faro risotto. Each of these creative and unique creations, as well as the rest of the Primi Piatti choices, offers delightful treats for your taste buds. Fresh and presented beautifully, every dish we have ever been served at Scarpetta is unique and offers an array of delicious flavors. As we enjoyed our meal, we sampled and thoroughly enjoyed four of the six, by the glass, excellent red wine choices from the wine list; the NEBBIOLO Angelo Negro, PINOT NOIR Copain 'Tous Ensemble', BORDEAUX BLEND Macari Vineyards 'Dos Aguas' 2, and the CABERNET SAUVIGNON Joel Gott '815'.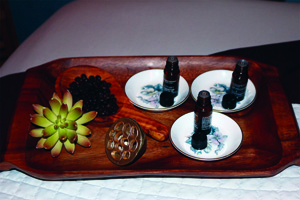 Our Paste course included one of my favorites, SHORT RIB & BONE MARROW AGNOLOTTI prepared with garlic chips & horseradish; this pillow shaped pasta is thin allowing the beef flavor to have a presence without being overpowering. Although I'm not sure how, I think it was even better than the last time we had it. A new item for us, the Black Farfalle- frutti di mare sprinkled with herbed spicy breadcrumbs. The spicy breadcrumbs are a perfect complement that pulls together all of the flavors of the mussels, clams, calamari, and shrimp. Each Paste is homemade and includes the freshest ingredients. I really can't say which one in my favorite but on our last visit, the Cavatelli may have topped the Agnolotti, my original favorite, and now…?  With such unique delightful flavors bursting with each forkful it's really hard to say. You'll just have to try each savory dish for yourselves!
For our Piatti we decided to try something new to us, so we chose the BRANZINO with white asparagus vinaigrette, maitake mushrooms, purslane & guanciale and Veal Tenderloin with sweetbreads; both were perfect selections. Tender, firm and presented with thinly sliced greens, the Branzino in the asparagus vinaigrette is an excellent piece of fish. The Veal, a new item on the menu for the winter, was accompanied by root vegetables, seared parmesan crusted semolina Gnocchi a la Romana, and veal sweetbread hearts sautéed crispy and coated with a veal and lemon glaze; the plate is finished with veal jus and gremolata. Despite which meal you choose, each accompaniment complements the main course allowing the flavors to blend perfectly together resulting in a lovely flavor experience for your pallet.
Being respectful guests, we indulged in two of the house favorite desserts; the ESPRESSO BUDINO with salted caramel, chocolate biscotti & hazelnut gelato, and the VALRHONA CHOCOLATE CAKE served with chocolate, butterscotch & caramel gelato. A perfectly sweet ending to a wonderful dining experience, and these are only two of the delicate choices available. In all, the food and wine, smooth sounds and low lighting adding to the ambiance, made for an exemplary dining experience. Our night out culminated with a visit to the outdoor fire-pit to relax, chat with other guests, and enjoy the evening star-filled sky.
The next morning after a quiet walk on the beach, we had breakfast at Tillies; a bistro-style space that has a casual, sun-kissed elegance, with white oak accents and banquettes throughout. Also newly remodeled, Tillies offers a morning view of the rising sun sparkling on the Atlantic.  After choosing a comfortable booth, our friendly waitress Alice took our order. We selected a Fresh Omelet with arugula, scallion, and fontina- though there are many items to choose from, and the Steak and Eggs. The omelet was delicately prepared and instead of bread, I added a warm bran muffin from Corso Coffee. Cooked to perfection, the Steak and Eggs served with chimichurri and petite hash browns is a hearty and delicious choice. In addition to their savory daily breakfast and lunch options, on Sundays the Gurney's Brunch is not to be missed.
In total there are five eating and drinking options at the hotel. Scarpetta Beach with signature classics and seasonally influenced dishes is open year round for dinner daily with slight seasonal menu changes.  Tillies, casual American favorites with a twist and featuring a seasonal menu, is open for breakfast and lunch daily.  Corso Coffee centrally located just off the newly renovated lobby, offering a variety of artisanal coffees from handcrafted, wood-roasted Tuscan espresso to American beans roasted locally in Long Island City. They also have a grab-and-go menu of freshly baked breakfast pastries, sandwiches, salads, as well as gelato and fresh juices; all available to take on the road or enjoy at one of the in or outdoor lounge areas. Re-opening again for Memorial Day, The Beach Club located on the 1,000-foot private beach serves wraps, fish sandwiches, burgers, salads, and other special beach friendly options. They'll be open daily 11am- 6pm. Lastly, The Regent Cocktail Club is a unique lounge serving crafted cocktails and is available for private events year round.  The Regent is a classy all-inclusive hideaway with a wall of windows welcoming an ocean view and an outdoor tented deck, a fireplace, game table, DJ station, and extensive bar. The plan is to continue with music, both DJ and live performances during the season. Additionally, the indoor/outdoor bars and fire-pit deck are comfortable spots to enjoy a snack, cocktail, or a conversation with friends.
Along with the Sea Water Spa, Gurney's Montauk is a seaside resort providing guests with all they need for a complete, relaxing experience. Speaking of the spa, after our lovely evening, a rejuvenating night sleep, and relaxing morning, I 'took one for the team' and enjoyed a massage at the Sea Water Spa. Although they have plans to remodel the facilities in the coming year, I always become instantly calmer as I descend the steps into the lounge for the treatment rooms and lockers. I can only imagine the experience when the renovations are complete. This seawater sanctuary utilizes traditional European amenities which are designed to cleanse, heal, and enhance overall well-being. Also available to enjoy are: the Roman bath, Finnish rock sauna, Russian steam room, Swiss shower, and the world-famous indoor, ocean-fed seawater pool with panoramic views of the Atlantic; it's not to be missed—being the only pool of its kind in North America.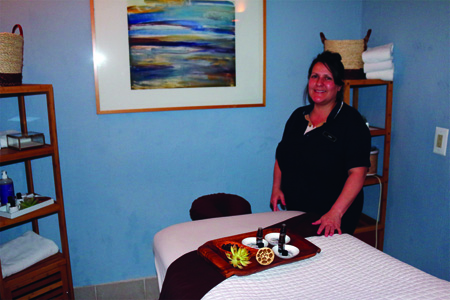 New at the spa is the Customized Massage, providing individualized attention to each client. As I spoke with my masseuse Deb, she inquired about any injuries, special requests, or desired pressure level, I even had a choice of scents for my oil. Deb's expertise was apparent, hitting all of the areas that we spoke about and I walked out feeling relaxed and less achy.
Gurney's is continually adding events on property, including a daily activity schedule and upcoming Mother's Day specials. This past winter, the spa roof was transform from an outdoor theater, all-purpose spa area, and giant sized game room … to an outdoor Ice Skating Rink! Complete with an ocean view, skate rentals, and nighttime bar, this became a perfect family winter fun spot.
In addition to hosting all-inclusive memorable Wedding experiences, Gurney's is also a perfect location for group business events.  Gurney's Montauk and Sea Water Spa, with the wide array of activities, beautiful accommodations, fine dining choices, indoor/outdoor bars and a comfortable fire pit deck is a year round seaside resort providing guests with all they need for a complete, relaxing experience.
Our escape was most needed and enjoyable-I'd recommend a stay any time of year.
For further details check out their web site: http://www.gurneysmontauk.com/