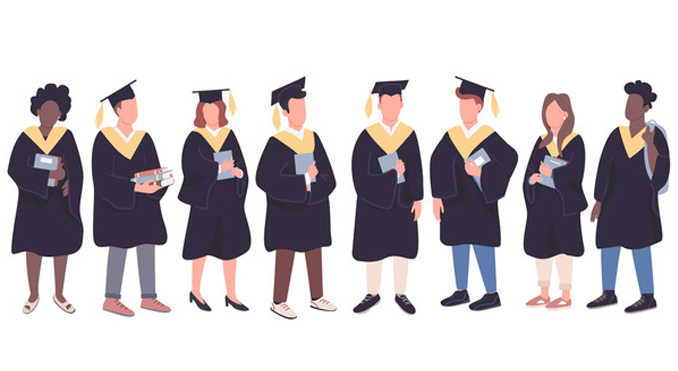 by Evelyn J. Mocbeichel
Graduations are exciting and sentimental times in a family's life.  Whether the student is graduating from high school or college, the emotions are the same.  As parents, we think about the years that have flown by and how our "child" is now entering a more adult environment.  For students graduating from high school and leaving for college this opens the doors of new challenges where they will be responsible for many decisions.  College graduates will make presentations during job interviews as a candidate that the company cannot do without.  This is the time for celebrating the accomplishments of the student.
Gifts…What kind of present do you give the graduating student that fits the occasion?  Perhaps you have a grandchild, neighbor, niece or nephew that will be graduating shortly.  You could give a check, but this time around you might want to be more creative in your gift selection.  If going off to college, there is a list of needed items. Basic items would be a small microwave, radio-alarm clock, popcorn popper and other household appliances. It is easier to shop for the college graduate entering the business world.  Maybe their first plans after graduation is to make a trip abroad with friends, because they know this will be the last vacation for a while.  From the end of May to the end of June, Europe is filled with college students seeing the fascinating sights of the various countries. A gift could be luggage, a calculator to convert the international money, a small camera, portable hair dryer or an electrical adaptor.  You could buy currency for the country they are visiting.
Time is money…A cousin's son related this interesting point during his first job interview after college and earning a degree in business.  During one of the interviews the potential employer asked him what time it was.  He glanced down at his watch and gave the time.  The interviewer smiled and said he was pleased to see the young man was wearing a watch.  The interviewer explained why he asked what time it was.  This was a mini test.  He wanted to make sure any future employees were wearing a watch because it meant they knew what time it was at the moment.  In this busy office there were constant meetings, appointments and clients to meet.  If an interviewee came in without a watch, it showed this employer that the person was not concerned with time.  This could translate into possibly coming to work late each day and or arriving late for a critical presentation.  While you may not agree with this employer's opinion or observation, it is an insider's peek into what an employer may be thinking.  So, a new watch, with a more adult design, would be a nice present for a new graduate entering the job market.  Of course we know all cell phones have a time component, but a quick glance at your wrist is easier than picking up a cell phone to check the time, and more professional. Another idea is a sturdy, leather brief or attaché case to carry papers, or lunch, back and forth.  Whatever present you eventually decide upon, I know the graduate will be appreciative.  It is not so much the cost of the gift, but the love and support you are showing that is behind it.  Taking these giants steps into the adult world is often a delicate balance for the student.  Knowing there is encouragement from loved ones behind them will make this transition a little easier.