GOOD NEWS PLANET
with Paul Sladkus
Dear Friends,
We are sharing two important events created by two important "Do Good" groups. One is a movie about Intellectually and Physically Disabled that will premiere/open on March 23, at the Village East Cinema in New York. I saw this movie and it is a powerful tribute to peace, love and acceptance. The other is Orphan Care in Indonesia, Dalai Lama's Birthday Celebration, Dr. Kazuko's Gala Birthday Celebration. Here is the background on them:
1. 'Summer in the Forest' Film American Premiere on March 23, NY. NY. The Film Shares a Powerful, Up-Lifting Story of the Intellectually and Physically Disabled. Motivated by Jean Vanier Founder L'Arche Communities Where All Can Live in Harmony. When: Film Premiere, from Friday March 23, 2018 Where: Village East Cinema, 181-189 2nd Ave, New York, NY 10003, National Release April 6th onwards
What the critics are saying: Joyously Uplifting – UK DAILY MAIL. The movie was widely praised particularly among the disability community in the UK e.g. THE LONDON TIMES, THE GUARDIAN…. Jean Lanier received the TEMPLETON PRIZE, first awarded to Mother Teresa in 1973, for his exceptional contributions in the spiritual realm.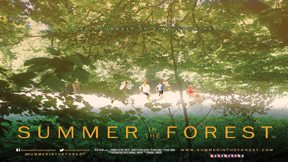 IMPORTANT STORY LINE: "Summer in the Forest," is a story of peace, hope and love for people who are different. They created L'Arche, French for "The Ark," which brings together people with and without intellectual and physical disabilities to live in community. Today, approximately 5,000 people with disabilities live in 147 L'Arche communities in 35 countries.
Website/Trailer: http://www.summerintheforest.com/ https://www.facebook.com/SummerInTheForestFilm/videos/325236157988756/
If you are interested in helping to change people's perspectives on disability by promoting the movie please email Trish at: trish@abramorama.com or call 914 741 1818
Or if you want to talk more about this please contact me Paul Sladkus at paul.sladkus@goodnewsbroadcast.com or call on 917 687 1790
2. Orphan Care in Indonesia, Dalai Lama's Birthday Celebration, Dr. Kazuko's Gala Birthday Celebration
A. Dr. Kazuko Hillyer Tatsumura, Founder and President of the Gaia Holistic Foundation and vice president of Orphans International Worldwide announces Gaia Holistic Orphan Fund of Orphans International to support orphans in Indonesia. https://www.facebook.com/ManjushreeFund/
B. Dr. Kazuko was instrumental in the construction of a $750,000 academic building recently built in Tawang, India for orphaned and disadvantaged Tibetan children. See: www.OrphansInternational.org
C. Fri., Jul. 6: His Holiness the Dalai Lama's 83rd Birthday Celebration at Essex House
D. Tue., Sep. 11: Second Manjushree Endowment Fund Gala Dinner & Dr. Kazuko's 80th Birthday Celebration
www.goodnewsplanet. TV and www.peacedayparty.org our nonprofit share the GOOD in the world who help to make mother earth a wonderful place to live. Please share our sites with your community as our motto is, All we are is what we are with each other.
~ Reverend Paul Sladkus