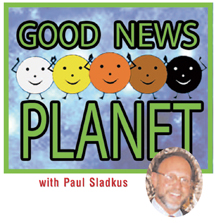 Dear Montauk Sun Friends,
Happy and Healthy Holidays to all.
Another Blessed Year sharing the GOOD in the world, how fortunate we are. As we look back on our 1,000's of shows on www.goodnewsplanet.TV, www.goodnewsbroadcast.com and www.peacedayparty.org we realize how GOOD we have it and are thankful for all those who do such good work and deeds.
We have interviewed people whose knowledge can save your life, as 40% of our daily show is health and wellness. We have interviewed those in the entertainment industry and those creating profit and nonprofit events who have put smiles on our faces and a tear in our heart. Our Thought for the Day spreads the knowledge of time and the lessons of life. Watch us and tell your friends.
Our Social Network has grown worldwide, join our Facebook, twitter pages and our newsletter that shares great opportunities to have a more regarding life.
Our www.peacedayparty.org efforts continue to grow with the success of our Times Square Event and broadcast. This year we were on major Clear Channel Billboard with a powerful video which included, Dr. Oz, Dr. Goodall, Michael Douglas, Leonardo DiCaprio, Stevie Wonder and Shakira… all making a statement for peace, go to www.peacedayparty.org to view. Our thought and media mission is strengthening the following: Peace is Here, Most of the people in the World Live and ACT in Peace, so FOCUS ON THE POSITIVE, AS WE ARE WHAT WE THINK. HANG OUT WITH POSITIVE PEOPLE WHO ENCOURAGE YOU AND SUPPORT YOU.
I, Rev. Paul AM DOING MY BEST TO TRY TO detach FROM SITUATIONS THAT AREN'T GOOD FOR ME, ITS HARD WHEN YOU ARE OPEN TO ALMOST EVERYTHING, BUT THIS IS A NECCESITY, SO I CAN FOCUS ON PRIORITIES, ESPECIALLY as I GET OLDER.
We are here to support you, you can put your content on our site, just email us and we will discuss it.
IF YOU CAN HELP: We seek EQUITY INVESTMENT into our parent company, Milestone Broadcast Corporation. We already have half of our investment from a major institutional investor who has vetted us. What MBC needs is a matching equity INVESTOR to close this great business opportunity. PLEASE let us know if you know someone or company who would be appropriate to invest/partner with MBC so we can share more Good in 2018, and broadcast like when I was with the great media companies CBS and Channel 13/PBS. Financial information upon request.
MOVIE ANNOUNCEMENT: We are happy to announce that 2019 is the 50th Anniversary of Woodstock. MBC will be releasing our tribute movie in which we created for the 20th Anniversary of Woodstock with Richie Havens and other Woodstock participants in Times Square/NYC Duffy Park in 1989. Note: We worked two years to do Woodstock in Central Park and Broadcast on PBS in 1989, and had permission, but couldn't raise the money needed. The movie and what happened has never been released and it is HISTORIC.
In Woodstock Forever we will also include statements on What Does Peace Mean to You? from hundreds of people that we have interviewed and include musical & cultural performances. We hope the world loves our movie that will be released in 2019 or maybe sooner, as we are so excited! The movie stands for Peace & Love. Our Working Title is Woodstock Forever: What Does Peace Mean to YOU? Our website that is in development is www.woodstockforever.com, which redirects to www.goodnewsplanet.TV, so you can start sharing your Woodstock Forever thoughts and What Does Peace Mean to YOU? comments in text, audio or video with us. Please email us at paul.sladkus@goodnewsbroadcast.com and we will share directions on how to proceed.
Also in 2018, MBC will be seen in China with new partners in the country, with our www.goodnewschina.TV.
Lot's happening at MBC. We wish you the most wonderful season of LOVE, remember there is no tomorrow… As tomorrow becomes today!
Peace and Love,
Good News and Peace Day Family (212 647 1212)
Our Motto is, All WE are is What We are With Each Other.