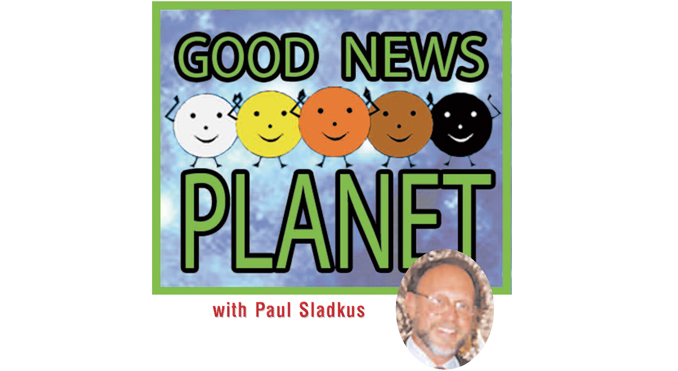 May 2020
Dear Montauk Sun Readers,
We all have heard about Heroes. We pray for all and look forward, maybe more than ever, to come to Montauk and relax… I hear my beloved Montauk Manor will be opening on May 1 (May Day!)
Here are important life affirming Good News Stories that we posted on our www.goodnewsplanet.TV.
Thought for the Day: When you are sorrowful look again in your heart, and you shall see that in truth, you are weeping for that which has been your delight. The Prophet – Kahlil Gibran
1. Our Heroes – Good News thanks you all. Please share your Hero comments with us on this post, or email us paul.sladkus@goodnewsbroadcast.com we will post. Facebook Paul Sladkus Live at 7pm Upper West Side Sharing their love… All we are is what we are with each other. Good News Motto. Zeal.  http://goodnewsplanet.com/todays-heroes/
2. Good News Facebook Live Paul Sladkus each Day at 3pm ..please share your Good News Comments. We Love You. http://goodnewsplanet.com/good-news-facebook-live-paul-sladkus-each-day-at-3pm-please-share-your-good-news-comments-we-love-you/
3. Woodstock Forever: Peace, Love & HOPE – Donate and receive Full Length Documentary Movie.  http://goodnewsplanet.com/woodstock-forever-peace-love-hope-a-good-news-film-and-tv-radio-series-3/
4. MAKE A DIFFERENCE' CAMPAIGN FOR THE NHS
Donate to 'NHS Charities Together' at https://rockandribbon.com or our fundraising page: https://www.justgiving.com/fundraisin… Heroes of the World Dedicated to all the incredible staff of the NHS & Social care, Volunteers and Medical professionals all over the World.

5. A POTENTIAL CURE FOR CORONAVIRUS – HOT AIR CAN KILL THE VIRUS. There are lots of thoughts about heat, hot water and more…
A POTENTIAL CURE FOR CORONAVIRUS – HOT AIR CAN KILL THE VIRUS. There are lots of thoughts about heat, hot water and more… read on, join in… 3PM live on Facebook Paul Sladkus

6. Do, Re Mi. Covid19 Version. The Sound of a Pandemic! Don't worry Maria and the Von Trapplings know how to…Submitted by Lorraine Cancro Plus some Good News with John Krasinski. http://goodnewsplanet.com/do-re-mi-covid19-version-the-sound-of-a-pandemic/
Lastly, I want to share these poems with all, especially at a time like this when we lose loved ones. We are all brothers, sisters and related to the animal and plant kingdom. Amen and AWomen.
NOT EVERYTHING IS CANCELLED
Sun is not cancelled
Spring is not cancelled
Relationships are not cancelled
Love is not cancelled
Reading is not cancelled
Devotion is not cancelled
Music is not cancelled
Imagination is not cancelled
Kindness is not cancelled
Conversations is not cancelled
HOPE is not cancelled
Peace Prayer of Saint Francis of Assisi
Lord, make me an instrument of your peace:
where there is hatred, let me sow love;

where there is injury, pardon;
where there is doubt, faith;
where there is despair, hope;
where there is darkness, light;
where there is sadness, joy.
O divine Master, grant that I may not so much seek
to be consoled as to console,
to be understood as to understand,
to be loved as to love.
For it is in giving that we receive,
it is in pardoning that we are pardoned,
and it is in dying that we are born to eternal life.
If anyone need a virtual ceremony for wedding, funeral, birth, renewal of vows or just to talk call me. It is my honor to serve.  Reverend Paul Sladkus, All Faiths and Spirituality. 212 647 1212
Thanks Austin and Team.