Dear Good News & Woodstock Forever Friends,
We wish you a Happy Mother's Day full of Peace, Love & HOPE. Enjoy the Montauk Music Festival… It will be great!!!!!!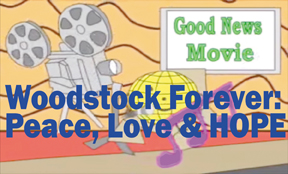 Some exciting happenings to share:
1. Woodstock Forever: Peace, Love, & HOPE Movie, TV/Podcast Series, Book, Game and Research Study for release July 4, 2019, just in time for the 1969 50th Anniversary Celebrations. Go to http://goodnewsplanet.com/woodstock-forever-peace-love-hope-a-good-news-film-and-tv-radio-series/ to see our latest rough cut and 5 minute master sizzle reels, as well as background on our 1989 Woodstock 20th Anniversary Celebration with Richie Havens and group from Woodstock in Times Square.
2. A short research study has been created, entitled Peace, Love & HOPE.. We encourage you to complete our survey by going to: https://forms.gle/Te6rTyZjyBwA19h28.
"The Woodstock Generation are those that were born after Woodstock in 1969. They are Global Minded Generation with Peace, Love & Harmony." – Richie Havens, lead performer at Woodstock 1969.
"The heart of the Woodstock 1969 Concert was for UNITY." Juma Sultan (Jimmy Hendrix Drummer at Woodstock and shared at our 1989 Celebration)
"If someone thinks that love and peace is a cliché that must have been left behind in the Sixties, that's his problem. Love and peace are eternal"- John Lennon
"Peace is not merely a distant goal we seek, but a means by which we arrive at that goal" – Martin Luther King Jr.
"Peace is always beautiful"- Walt Whitman
"Peace cannot be kept by force, it can only be achieved by understanding"- Albert Einstein
"It isn't enough to talk about peace. One must believe in it. And it isn't enough to believe in it. One must work at it"- Eleanor Roosevelt
"When the power of love overcomes the love of power the world will know peace"- Jimi Hendrix
Woodstock Forever: Peace, Love & HOPE includes songs of Lady Gaga, Sonny & Cher, Taylor Swift, Kacey Musgraves, Dionne Warwick, Sly & the Family Stone, Louis Armstrong.. and many, many more.
We have also created a companion book and a video HUGGING GAME that we will share with you shortly.
~ Paul Sladkus and our Good News & Peace Teams