Dear Montauk Friends,
The 50th Anniversary of Woodstock is upon us, the 50th Anniversary of Man landing on the Moon is as well… we are growing every day and let's all enjoy ever moment.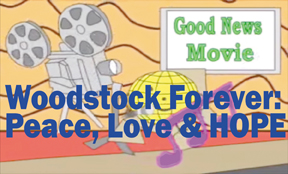 Good New Corporation (GNC) is proud to announce that we will soon be sharing our, nonprofit Woodstock Forever: Peace, Love & HOPE project that we have been working on since 1989. In 1989, we created a 20th Anniversary Celebration in Times Square with Richie Havens… it was a special event with a group coming down from the Bethel site to honor Richie and the memory of the Peace, Love & HOPE aspect of the original concert. The mission was to pass to the next generation the wisdom and unity that Woodstock represented for Peace. We have added renown icons in the world who represent Peace, Love & HOPE to the movie, i.e. Leonardo DiCaprio, Stevie Wonder, Lady Gaga, Casey Musgraves, Loud Family, Sly & the Family Stone, Dr. Jane Goodall, MaryAnn Williamson, Cat Stevens, Oprah Winfrey, Ringo… and other media figurers. Please go to http://goodnewsplanet.com/woodstock-forever-peace-love-hope-a-good-news-film-and-tv-radio-series/ to see the rough rough cut, rough cut sizzle reel and some background and the script or www.woodstockforever.com. At this post you can also donate and participate in our nonprofit outreach to help to create our final edit and concert promotion for www.peacedayparty.org … we need $150,000.
We also ask you to complete a research study for Peace, Love and HOPE at: https://forms.gle/Te6rTyZjyBwA19h28.
Our annual Peace Day Concert, which celebrates 193 countries in the United Nations agreeing to a day of Peace we hold in Times Square on September 21 in which we will include the nonprofit Woodstock Forever: Peace, Love and HOPE theme. We also participate in a Central Park event on September 15th. Go to: www.peacedayparty.org.
Some noteworthy quotes for Peace, Love & HOPE:
"The Woodstock Generation are those that were born after Woodstock in 1969. They are Global Minded Generation with Peace, Love & Harmony." ~ Richie Havens, lead performer at Woodstock 1969.
"The heart of the Woodstock 1969 Concert was for UNITY." ~ Juma Sultan (Jimmy Hendrix Drummer at Woodstock)
"If someone thinks that love and peace is a cliché that must have been left behind in the Sixties, that's his problem. Love and peace are eternal" ~ John Lennon
"Peace is not merely a distant goal we seek, but a means by which we arrive at that goal" ~Martin Luther King, Jr.
"Peace is always beautiful" ~ Walt Whitman
"Peace cannot be kept by force, it can only be achieved by understanding" ~ Albert Einstein
"It isn't enough to talk about peace. One must believe in it. And it isn't enough to believe in it. One must work at it" ~ Eleanor Roosevelt
"When the power of love overcomes the love of power the world will know peace" ~ Jimi Hendrix
With Peace, Love and HOPE in our hearts.
For information please contact Paul.sladkus@goodnewsbroadcast.com or call 212 647 1212
~ Paul Sladkus and our Good News & Peace Teams