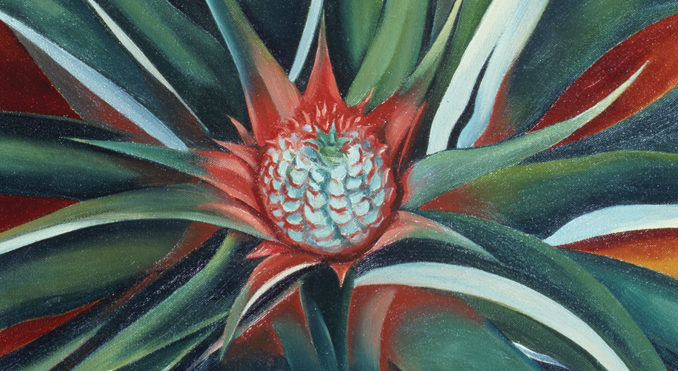 by Evelyn J. Mocbeichel
When thinking about famed American artist, Georgia O'Keeffe, people recall her best known works of enlarged flowers, New York City skyscrapers and the landscapes of New Mexico where she spent the remaining years of her life. Aptly referred to the "Mother of American modernism", O'Keeffe also did stunning works of the Hawaiian Islands. In their current exhibit, running through October 28, 2018, The New York Botanical Garden (NYBG) will feature a lush floral tributes in the Garden's Enid A. Haupt Conservatory evoking the gardens and landscapes that inspired O'Keeffe as well as the complex story of the flora and unique ecology of Hawai'i. The exhibition will also feature 20 of O'Keeffe's depictions of Hawai'i, including paintings not seen together since their 1940 New York debut. Visitors of all ages will learn about Hawai'i through complementary events and programs, including a scholarly symposium, an original short film, a film series, and the Interactive Mobile Guide.
Hawaiian Art
What prompted O'Keeffe to travel to Hawaii? In 1938 an ad agency asked her to create two paintings for a pineapple company that is now the Dole Food Company to use in their advertising. She was 51 at the time and critics seemed to be less enchanted with her New Mexico desert paintings. O'Keeffe spent nine weeks visiting the islands and she completed 20 paintings. At the NYBG exhibit, there will be plantings designed by Francisca Coelho and set pieces designed by Tony Award-winning scenic designer Scott Pask. The exhibition also introduces visitors to the profound importance of plants in Hawaiian culture and growing concerns about threats to native Hawaiian plants. Long borders of colorful tropical garden plants such as those Georgia O'Keeffe encountered and painted while in Hawaii include Tiplant frangipani, bougainvillea, heliconia, hibiscus, bird-of- paradise, ginger, and many more tropical favorites. Beyond the borders, planting beds arranged around an open-sided, thatched-roof pavilion inspired by a traditional Hawaiian hale tell the story of canoe plants the useful plants brought to the Islands more than 1,000 years ago by Polynesian settlers. Outside in the Conservatory Courtyards visitors will see a wide variety of Hawaiian plants in beautiful potted and ground-level trough displays. Pineapples and bananas, among other favorites, will be on view in the Central Courtyard, while hundreds of hibiscus, as well as gardenia and bougainvillea, will fill the Hardy Courtyard. Canoe plants and other edible and useful tropicals such as papaya and sugarcane will be on display the Tropical Courtyard.
The O'Keefe's paintings will be on display in the LuEsther T. Mertz Library Art Gallery on the grounds. The NYBG is located at Bronx River Parkway (Exit 7W) and Fordham Road. For information about their programs, events, train schedules and exhibits call them at 718 817-8700 or visit their website at www.nybg.org.