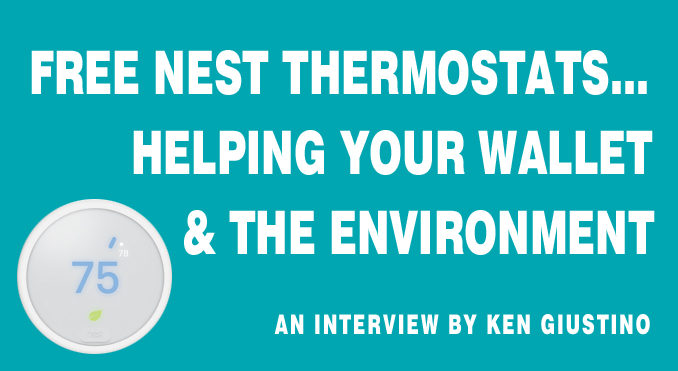 An Interview by Ken Giustino
Bruce Humenik has worked in the Energy field on Long Island for more than 40 years designing programs to help utility customers save energy. He is an EVP at Applied Energy Group, who is under contract with PSEG Long Island to operate the South Fork Peak Savers initiative. I wanted to find out more about the initiative and how I can save money and help save the environment at the same time. Here's what I found out:
KENNY: What is South Fork Peak Savers and why are you giving away free Nest Thermostats?
BRUCE: South Fork Peak Savers is a program that was created by the company I work for, Applied Energy Group to help PSEG Long Island consumers lower the electrical Load on the South Fork, and save money at the same time. Did you know that out here, your demand for energy is growing at twice the rate of the rest of Long Island?
KENNY: No!
BRUCE: Big houses, lots of pool pumps and of course the number one culprit is air conditioning.
KENNY: So how do Nest Thermostats help solve the problem?
BRUCE: Well, we like to say, "every kilowatt counts." When you go to our website and sign up for "rush hour rewards," a google program, you're giving us permission to lower your ac by a few degrees for a few hours when power demands are high. Of course, if you're not happy with the adjustment you can override it. So we're giving away free Nests – but what's great is, you save money year round by lowering your electrical use.. up to $175 . And if you already have a Nest thermostat, you can get up to $500 in rebates to join.
KENNY: How does this help the environment?
BRUCE: According to the utility, if we don't lower the load, they'll have to build more infrastructure. This place is so beautiful, no one wants that.
KENNY: So there's no such thing as a free lunch, but there are free Nest Thermostats?
BRUCE: Exactly.
KENNY: I'm signing up!
BRUCE: Great…see us at southforkpeaksavers.com for more information.