'Taste of Two Forks' & Taste of Montauk'
Dubbed a Paradise for Foodies, the Taste of Two Forks will take place on Satur­ day, July 12 at Sayre Parke in Bridgehampton. Katie Lee and Geoffrey Zakarian, co­ stars of Food Network's The Kitchen will host the event.
Top Chefs, great winemakers and more than 40 of the finest restaurants from the North and South Forks offer the very best in their individual creative style and taste. VIP Admission from 6:30-10:00 pm grants early access, champagne, and ex­ clusive first tastes and pours. General Admission starts at 7:30pm and offers ac- cess to great food and wine. Wineries in- elude Bedell Cellars, Lieb Cellars, Macari Vineyards, Martha Clara Vineyards and Wolffer Es­tate Vineyard. Purveyors participating in the event include Amagansett Sea Salt, Anke's Fit Bakery, Goodwater Farms, and Hampton Coffee Company.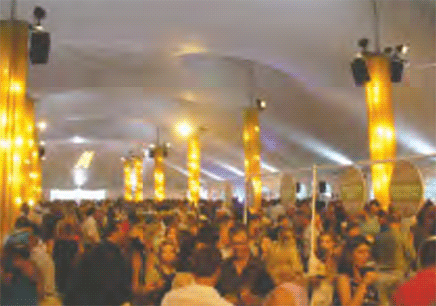 The stars of the event are the chefs, and the local line-up features Gray Gardell of 668 The Gig Shack, David Piacente of Gosman's, Seth Levine of The Seawater Grill at Gurney's Montauk, Randy San­ tos of Navy Beach, Joseph Realmuto of Nick & Toni's, South Edison's Todd Mitgang and Tony Berkhofer of the Coast. Please visit danstasteofsummer.com for more information.