The 2021 Fall run is officially underway, and it's a Banner one at that!! All those juvenile Striped Bass that have been coming through in droves for the past 4-5 years have finally reached legal size. Anglers still had to weed through some shorts, but not near as many as past years. I take it as a good sign that the Striped Bass Biomass is in pretty good shape. My friends report from Rockport, Mass. said they were catching 30 pound average Striped Bass on live Tinker Mackerel right in the harbor just last week.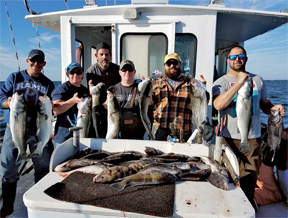 There are still plenty of Bass that will be coming our way hopefully. The reason for this is all about the water temperature. Approximately 2 weeks to 10 days ago the water temperature was still around 67-68 degrees. All that delightful weather we were having, kept the water temperature from dropping, thus keeping the baitfish and Bass around longer. Pretty much from July right through September hoards of Bunker (Menhaden) have been congregating along the south shore of Long Island. People swimming at main beach in East Hampton watched Humpback Whales, Giant Tuna, Thresher & Sandbar Sharks (Brown Sharks) feed on the massive shoals of Bunker.
Now that the water is starting to cool off, they'll be headed west. They're already down by the city, where anglers are cashing in on Giant Tuna action.
The pressure has been off the Bunker for quite some years now, thus creating this huge Biomass explosion, providing literally tons of feed for numerous species of fish. Good thing to remember, if you're offshore and you see groups of different sea mammals concentrated in an area, and you're not getting any bites, you better stay put! When the dinner bell goes off for the Tuna they'll be right there.
Back inshore, the final days of the 2021 Fluke season saw some great Flattie action. It's almost like they know the season is closing any day!! LOL!! Overall the 2021 Fluke season was at least an improvement over the past few years. Some days had some really good action, and it was a pleasant surprise.
Our other Bottom dwelling friends, the Black Sea Bass are still in full swing. They're starting to ease offshore, but still within easy striking distance. South of Block island on the numerous rockpiles that are spread throughout the area, along with them are some really nice Blackfish (Tautog). Unfortunately you have to anchor up for the Togs. Calico, Green crabs, and Hermit crabs work the best. You still have plenty of time to get it done. The season closes on December 9th. Size limit is 16″ and you're allowed 3 per angler. Once the Blackfish season closes, you have till the 31st of December to fish for the Black Sea Bass. The size limit is 15″ and the limit is 7 per angler.
Weather's going to be changing, so get out there as soon as you can!
~ Tight Lines, Captain Skip
www.adiosboat.com  •   www.facebook.com/adios.charters