If 2018 is going to be anything like 2017, we will be in for some more great fishing action. The action was fantastic right through the 31st of December! Despite the difficult weather days, Black Sea Bass fishing and Giant Porgy fishing couldn't of been better. The sizes of most of the Black Sea Bass didn't even require a measuring stick! The rule became: If you have to measure it, throw it back!!
Then along with all this Sea Bass and Porgy action there was some really nice Codfish joining in the mix. Most of the action was southeast of Block Island. Just about all of the regular hot spot rock piles were holding fish, making for steady action for most of the day. Fish got a break every time the wind blew, but it sure was a good sign to see such numbers, both coming over the rail and on the Fathometer (bottom machine). Hopefully this information will somehow reach the National Marine Fisheries Service, so they can have some accurate information for a change.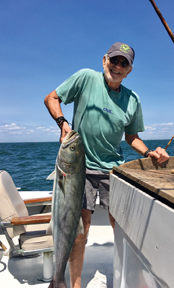 Things have quieted down for now, but usually around mid January the Codfish show up. We got a lot colder weather this January, than in the past couple of years, and in the past that was good for Codfishing!! We'll just have to wait and see.
Meanwhile at this time of year, make a list of all the things you need to replace, things you needed that you didn't have, and any maintenance issues you need to address while it's fresh in your mind. Making a punch list is key for getting everything done at any age, not just for us old salts!! With these frigid temperatures we have this year it's a good time to go through all your tackle, safety equipment lists, change out the worn mono or braid fishing line while your trapped in the house!!
As usual we'll keep you posted on any new regulations coming down the line for 2018. Remember, regulations are necessary, but also use your own discretion when going fishing! Take only what you can utilize, and save some for your next trip.
Hope everyone had a Happy Hanukkah, Merry Christmas, and Happy Holidays with your families and friends! Wishing everyone All the Best for the New Year as well!!
Tight Lines,
Captain Skip