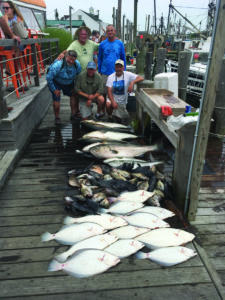 WOW! What an action packed month it's been. The Bass showed up early this season, Mako sharks all over the ocean, fluke biting ferociously. Unbelievable start to the 2017 season. One of the shark tournaments saw a 780 pound Mako shark brought to the dock!
Numerous other Mako's and Thresher Sharks were caught and many released back to swim again! It's been non-stop for a month now! Along with the sharks there has been some school Bluefin Tuna out by the Butterfish Hole, providing anglers with some great morning action. A few larger sized Bluefins were caught as well! Large schools of sand eels offshore has brought them back. Good sign of things to come maybe?
Inshore the sand eels are all over the place bringing Striped Bass, Bluefish, and Fluke all around the Point. Cartwright grounds were on fire the first two weeks of July with many limits of Fluke being made. Action is still good on the south side, Frisbee, Cartwright, and south of the elbow.
Last full moon the Striped Bass bite was very good. All nice sized fish came from the Elbow, the Slot, and Great Eastern. Live eels worked the best because of all the sand eels around! Nice Bass were even being caught on Parachute jigs along the pollack rip and great eastern.
Bluefish action has been at outer Shagwong, inner Shagwong, the Flats, and south of Great Eastern.
Black Sea Bass season opened with a bang too. Frisbee, Cartwright, Porgy Lump, Sanctuary, just about any rockpile you find will have these delicious fish living there. Squid and Clams are the best bait along with a high-low rig, and you'll be in action. Just a reminder Black Sea Bass regulations are: 3 fish @ 15 inches till August 31st, then it goes to: 8 fish Sept.1st -Oct. 31st then it wraps up the season with: 10 fish Nov.1st-Dec. 31st. Fluke are open till Sept. 21st, 3 fish at 19 inches.
Porgy can't be left out and they are just about everywhere. They are so underrated! They make fantastic "fish tacos", they are great on the grill, baked or broiled in the oven. Everyone says they're bony, well all fish have bones, just don't eat the bones!! Ha! Ha! Clams & Squid with the high-low rig will get the job done.
We have lots of Summer left, so get out there and enjoy all this action that's going on right now!!
Tight Lines,
Captain Skip        www.adiosboat.com