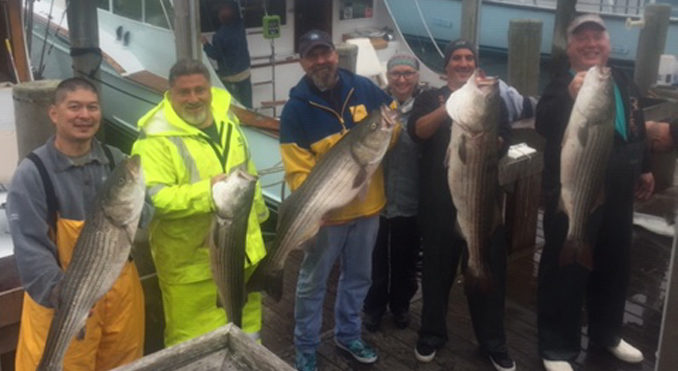 So far so good this Fall. Loads of False Albacore (little Tunney) from Shagwong out to the Porgy Lump and all over the south side. Loads of baitfish everywhere is good for holding the fish. Right now as I write the blitz is on! The Striped Bass are on the move, and they can be found all around the point.
Jones', Pollock Rip, Elbow, South Side, anywhere you see the birds you should have great action. Only thing holding you back from all this great action is the weather. We've lost lots of days due to the easterly winds this Fall, but thanks to the water temperature not dropping quickly, and all the baitfish, the Striped Bass are hanging out. Hopefully it will last for a while.
Diamond jigging, casting flies, casting Deadly dicks, or trolling small tubes all have been working just fine! Just look for the birds and work the area, when you see them pop up ease over to them and cast into the pile, shouldn't take long!
Bottom fishing for Black Sea Bass and Jumbo Porgy has been nothing less than fantastic pretty much all season. But now they are staging to go offshore to their winter residences and are feeding heavily. All around Southwest Ledge, and south of the windmills you can find these delicious bottom dwellers.
Clams and squid work very well with a high-low rig. You can also diamond jig the Sea Bass and that saves you from catching so many short fish, Porgy will take the jigs as well! Great fun and it will keep you warm on those chilly Fall days.
Blackfish action is heating up, but slow to start due to the warmer water temperatures. Green crabs, Hermit crabs, Calico crabs, all the baits of choice.
Once again weather is all important. Plan the tide to go along with the wind, wind against tide is a no-no, rough weather makes for bad presentation and harder to feel the bite. Any close rock piles, Cartwright, Southwest Ledge, all great areas to try. Great spots all around the sound too. Fisher's Island, the Highway reef, even Gardiner's Island has some sneaky little rock piles worth checking out.
Still plenty of time to go have some fun fishing before it's over. Keep a sharp eye on the weather, that is very important this time of year! You don't want to be over by the windmills or Southwest Ledge and have a stiff Southwest wind come up! Trust me, it makes for a long arduous ride home and I guarantee you won't like it.
Enjoy the rest of the 2018 season, be safe and catch em' up!!
~Tight Lines, Captain Skip
adiosboat.com              facebook.com/adios.charters