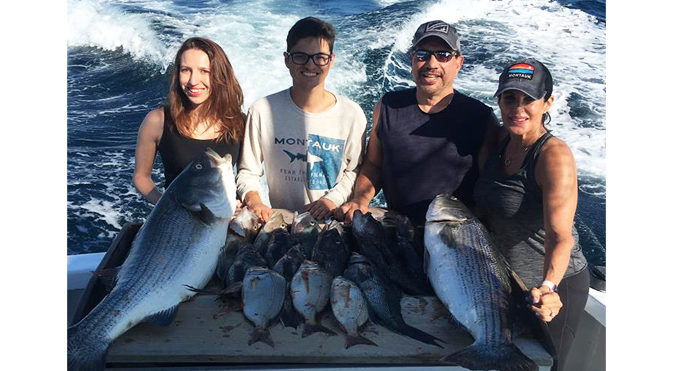 We've had plenty of good fishing this season and it's still going on!! The only thing to really complain about is the Fluke fishing. Actually, Fluke fishing was great, with a huge number of 16″-18″ fish being caught. They provided great action, especially for the young anglers. It's also a very good sign for seasons to come, the sheer numbers showed that. Finally now that Fluke season is almost over, (September 30th) the nicer bigger fish have showed up.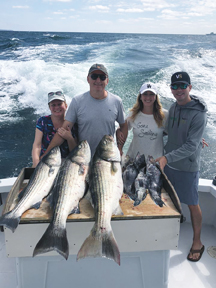 We just need the good weather and no big swells, and possibly Fluke season can end with a bang!!! South side, South of the Elbow, Cartwright, even down off of town, all holding fish. Just plan your drift to be conducive with the tide and wind!
Striped Bass are heating up too! Montauk's favorite fish are starting to show up on the beaches already, should be a good sign for weeks to come.
Trolling the Elbow, Jones, Great Eastern has improved greatly. Live eels and Diamond Jigging just started heating up around the Elbow during the Flood tide.
Diamond jigging can really be a lot of fun, especially if you use light tackle. Simply drop the jig down to the bottom, then reel 5 turns slowly, then 5 turns a little faster, repeat from the beginning until you get a bite. It's a Blast! Work on your own personal style if you like, definitely a great bite when it happens.
Black Sea Bass are still going strong at Cartwright, 20 minutes east, SW ledge, just about anywhere there is a rock pile. These tasty critters have really made an amazing come back and are absolutely delicious table fare. Squid and Clams are the bait of choice, attached to a double hook bottom rig. (high-low)
Don't forget about the Porgy! The kids love to catch them because it's instant gratification. They also learn how to work the rod and reel, hook up on fish, and fight the fish properly. Best part, Porgy are just about everywhere, in fact they are almost a nuisance when trying to target Black Sea Bass and Fluke!
The off shore report for Sharks is still very good, plenty of great action out on the 30 fathom curve and the Butterfish hole. Lots of Blue sharks and small Makos have been moving through. The Thresher sharks are still around too, just got to be in the right place at the right time! As in all fishing expeditions!
Keep in mind for the next full moon when fishing for the Striped Bass at night. Last full moon someone running up for another drift side swiped another boat. Fortunately no one was hurt, please just run up slower, it only takes an extra few seconds. You don't want to live the rest of your life knowing you could have avoided a serious or fatal accident by just going a bit slower!!!
There is still have plenty of fish and time, so go enjoy and be safe!
Tight Lines, Captain Skip
adiosboat.com         facebook.com/adios.charters