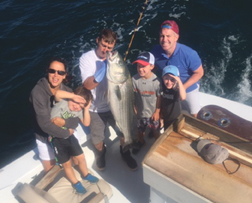 Wow! What a great stretch of beautiful weather. Not much to complain about for the 2019 season. Yes, the Fluke opening season day was very good, and since then it's been hot and cold. When the Fluke are on though, they are on! You go out one day and they are hitting good and you end up with a productive catch. Then you go to the same area as you did the day before and nothing! Go figure. It's been that way all season, you just got to persevere.
Don't be afraid to change your location. Remember, playing the wind and tide is all important. Look for the bait on your bottom machine and set up correctly for the wind and tide, you just may get surprised!! This season, although spotty, has produced some giant Fluke. Don't be discouraged, keep trying.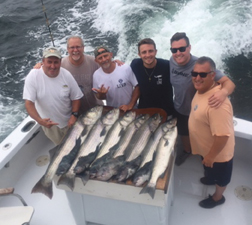 Another species this season that has been running hot and cold are the Striped Bass. They came in slowly, probably because of all the abundant baitfish back west. Hoards of Bunker (Pogy) have really made a huge come back, and the Striped Bass love them! We had a pretty hot heat spell about 3 weeks ago and the fish just seemed to vanish, but they really didn't. Granted there is a big mass of Striped bass in Massachusetts and Maine right now and that could be good news for the Fall run. The fish that are here are around the Elbow, Slot, and Great Eastern. Just have to hit the tide right and get them during the window of opportunity.
Shark fishing has been good around the big schools of Bunker down off Amagansett, you'll see the whales & porpoise, simple hang with the school of Bunkers.
Offshore report has been consistent. School Bluefin Tuna taking Diamond Jigs down off the Coimbra wreck. Farther offshore in the Canyons the Yellowfin Tuna and Bigeyes are still holding up. From the Fishtails east to Hydrographers Canyon. White Marlin, Blue Marlin, Wahoo, and Nice Mahi-Mahi (Dolphin) Fish. Best offshore Tuna fishing in years, so don't miss out!
On a final note, I want to commend United States Coast Guard station Montauk for a superb response to a local's boat that was sinking out by the Alaska Rip. The vessel was moments away from being lost, but they got her pumped out and secured from taking on any more water! Great job Guys & Girls!!
Also, be advised, you can't fish for Striped Bass when over 3 miles from land. It's called the EEZ Zone (Economic Exclusion Zone). The Rhode Island DEM (Dept. Environmental Management) and NYDEC are checking boats. You can travel through the zone, but rods must be stowed, not left in the rod holders!
Enjoy this fantastic season, be courteous, and be safe!
Tight Lines, Captain Skip
adiosboat.com          facebook.com/adios.charters