A quietly situated, hidden gem, offering a delicious menu that is worth the trip out to East Lake Drive, FishBar on the Lake at the Gone Fishing Marina is owned and operated by Daniel Grimm and Chef Jennifer Meadows They use only fresh fish, right off the dock chosen and prepared by Chef Jennifer. Their dockside seating with simple yet classy décor, full bar, and menu complete with unique fish and shellfish dishes makes this restaurant a great dining destination inviting patrons to visit by land, air, or sea. Each season the menu changes, adding new items as well as keeping a few long standing favorites; it's always a special treat. We arrived on a lovely summer evening as the sun was setting. After chatting with Daniel about the anticipated arrival of their second daughter, we sat enjoying the harbor view with a nice breeze off the water.
To begin, we ordered a few appetizers. The Mediterranean Platter complete with Fava Bean Hummus, grilled eggplant, charred tomatoes, Castelvetrano olives, roasted cipollini onions, and grilled flat bread was a wonderful combination of fresh flavors. The Mussels arrived soaking in Plum tomatoes, capers, leeks, chili flakes, parsley butter, and grilled garlic bread for dipping in the light flavorful broth. Finally, fresh, tender and crispy, the Calamari served with marinara sauce complimented our other choices perfectly. The appetizers were a lovely start to our meal, as we sipped red Sangria, a cold beer, and a Bentley Margarita -a specialty of Nicholas behind the bar- while enjoying the colorful evening sky.
For dinner we had the Summer Pasta which is a delicious blend of creamy goat cheese with grilled shrimp and chirozza sausage. Flavorful, light, and creamy from the warm goat cheese it's a perfect fresh summer pasta dish. The mouthwatering Marinated Skirt Steak arrived sliced and beautifully displayed with petite crispy herbed fries and vegetables. A long standing favorite of mine is the Fish Taco; grilled fish arranged in grilled flour tortillas with tomato & avocado salsa, chipotle cream, and jicama slaw.  Delicately grilled on the outside, tender on the inside and served atop baby artichokes, Puy lentils, saffron aioli, tomato confit the Pan Seared Scallops were amazing. Each dish was elegantly presented and delicious, while the servers were both attentive and pleasant. Paired with the beautiful harbor view, from start to finish, our evening was quite enjoyable.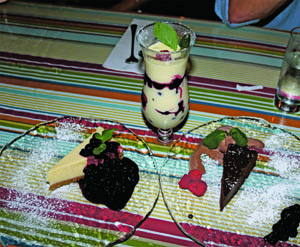 Also made in-house, the dessert menu is as intriguing as the dinners. Lemon Parfait layers fresh berries with custard that is so light and creamy, almost milky smooth. The Keylime Pie is perfectly tart and served with fresh tart blueberries. The Chocolate Mousse Cake with fresh raspberries and chocolate ice cream is dense, rich, and absolutely impossible for a chocolate lover to pass up- no matter how full she is!
Open 7 days for dinner, and on Friday, Saturday, and Sunday for lunch, FishBar on the Lake is one of those Montauk Restaurants that is a little off the beaten track yet offers so much; a gorgeous sunset, waterside dining, great fresh fish and produce, and recipes by an accomplished Chef- culminating in a wonderful dining experience.