Moonshine and Whitewater Rafting in Tennessee
To be honest, the only thing I have ever personally affiliated with Tennessee was Nashville, country music city of the world (we visited last summer), and Dollywood in Gatlinburg, the gateway to the Great Smoky Mountains National Park. Little did I know that during my visit to this great state I'd get to face one of my greatest fears when it comes to outdoor sports! We'd started off our Escape from Paradise with a visit to Kentucky's Cumberland Falls Park where we'd stay for the night. The Niagara Falls of the South, though a much smaller version of the Niagara Falls, given that it's only 68ft tall and 125ft wide, is nevertheless a sight to see. From here we took the road less traveled up north to visit with dear friends in Union, KY but also to stay once again at The Shaker Village of Pleasant Hill, KY and not just because we love the serene feel of this historic place, but because we love the food at the Trustee's Table restaurant. We fell in love with Chef Amber's eclectic homegrown, all organic, seasonal farm to table menu three years ago when we'd visited last and were thrilled that Amber was still there. It was her birthday, she turned 32. www.escapefromparadise.net/post/the-shaker-village-of-pleasant-hill
Now back to our original reason to visit Kentucky… visiting with newlyweds is always inspiring, don't you think? Just like my husband and I, they found each other on a dating site. Phyllis, a beautiful, widowed lady, serving the Lord her entire life, and Larry, a Biochemist, are made for each other. The handsome couple married after a brief courtship and made Union, KY southwest of Cincinnati, Ohio, their forever home. Larry is a passionate golfer and home cook and surprised us with the most creative meals! If any of you my dear readers follow me on Facebook, you know that I, myself, am a passionate home chef and very much appreciate healthy home-cooked meals and nutrition. www.facebook.com/ingrid.lemme
It took us 4 hours on a super-scenic off the beaten path road from Union, KY to Cosby in Cocke County, Tennessee, located a good 20 minutes from the buzz of Gatlinburg. Why Cocke County? My friend Annie (she grew up in Montauk) had bought a place on Douglas Lake and insisted that we'd fall in love with the area if we'd only come and see for ourselves. With breathtaking views of the Smokies this is definitely the adventure side of the famous Smokey Mountains! The county was named in honor of William Cocke, a revolutionary soldier and member of several legislatures. This area is rich in history, originally settled by the Cherokee in the early 1700s. We'd heard from Janice Lewanski, the Tourism Director of Cocke County, that Discovery Channel's Moonshiners stars Mark and Digger, JB Rader and Kelley Williamson all reside in the County. Well, lucky us, we would meet them all. www.YallVisitTheSmokies.com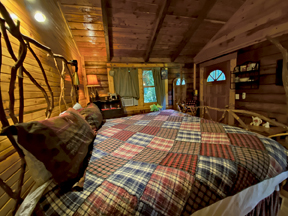 We had reservations at the Creekwalk Inn at Whisperwood Farm in Cosby and could barely tame our excitement over the location of this 50 acre, well off the beaten path, hidden paradise. We found out later that Dolly Parton drives up that road when she comes home to the Smokies, as her real Tennessee home is just around the corner from the farm. Here, surrounded by fields of wildflowers we were briefly acknowledged by a couple of peacefully grazing horses. Charming, whimsical and rustic might best describe our little mountain cabin. Just a few steps away from the main lodge, our unique one room 'Cades Cove' cabin featured a massive tree bed, the head and foot boards made of peeled Rhododendron branches, a shower/bath, a small, covered porch overlooking the farm and a private outdoor hot tub on the side.
We met Ms. Linda a few minutes down the road at The Woodshed Restaurant for dinner. As soon as we opened the car doors the aroma of the wood smoker made us drool. The parking lot was packed and so was the charming, rustic, fun country restaurant. Owner Michelle welcomes her guests here personally and she even sat down with us for a few minutes to tell us about a new campground she's working on, with a swimming hole. The American Dream is alive and well in Tennessee. Our dinner was a moist, tender and delicious Smoked Boston Butt pulled by hand, served with a side of their homemade BBQ sauce, garlic toast, a baked potato and a side of sautéed vegetables! www.facebook.com/thewoodshedrest
Ms. Linda had told us about several worthwhile distilleries in the area, but we decided to stay in town and visit the distillery down the road managed by Kelly Williamson and his partners. Kelley Williamson, from the Discovery Channel's Moonshiners show and his famous friends Mark, Digger and JB Rader were all hanging out here. The guys insisted that we'd have to come back Saturday night for a concert with American Idol golden ticket winner Blake Anthony Ellege and his band! Saturday night was the bomb, Blake was rocking the barn! www.adventuresmokies.com
We decided to have breakfast in town the next morning for the local feel and then go exploring. Breakfast at Janice's Diner in Cosby was hometown dining at its best, I loved the local spirit and my husband loved his omelette. Then we headed up towards Cosby Campground where one of the areas tallest falls in the Great Smoky Mountains National Park is found. Hen Wallow Falls is said to be a stunning 90-foot-tall waterfall located about 2 miles into Gabes Mountain Trail from the trailhead at Cosby Entrance Road. But we eventually decided to not go all the way because there was so much more for us to discover. On the way to Carvers Apple-house for lunch we stopped briefly at the Foothills of the Smokeys Quilt Shop. This must visit shop located in a historic log cabin in Cosby and packed full of quilting fabrics and supplies is keeping the story of The Hidden Quilt alive. During the Civil War, a quilt along with other valuables was hidden in a chestnut stump and was recovered fully intact after the war. www.foothillsofthesmokysquiltshop.com
After our quilting stop, we followed the advice of Ms. Linda and the SmokyMountains.com Local Expert Team: "As soon as you enter the property, the 40,000 apple trees and 75 acres of rolling hills make it apparent that Carver's Orchard is a special place. Step inside the old general store and be prepared for fresh vegetables, tons of apples, homemade jams, and friendly faces. The Applehouse Restaurant, which is also on site, has true Southern down-home cooking, known for its classics…" We agree, we absolutely loved their homemade chicken potpie and their famous fried apple pie for dessert. The setting, which is rolling orchards with the majestic Smoky Mountains behind them, priceless! www.smokiesguide.com/carvers-orchard
We barely had any time to get back to our cabin and grab a set of dry clothes for our next adventure but arrived after a 20-minute ride at the river outpost of Rafting in the Smokies in Hertford, TN. Although surrounded by spectacular mountain wilderness, the Rafting in the Smokies Pigeon River Outpost is said to be the most accessible outpost in East Tennessee and it was buzzing! The Pigeon River is dam-controlled with scheduled water releases from Memorial Day through Labor Day rain or shine on Tuesday, Wednesday, Thursday & Saturday, Ms Karson, the GM explained. Wolf, our captain, welcomed our group of 6, a father with a teenage son and 2 daughters and us 2 seniors. He got us all fitted into sterilized life jackets and helmets and off we went on our bus to the top of the rapids. We learned that the upper section of the Pigeon River, that we reached within 15 minutes, boasts 12 Class III and 3 Class IV thrilling whitewater rapids. Wolf guided us safely down 5.5 miles of some of them using such names as Too Late, Vega Matic, Razor Blade, After Shave, and Lost Guide. To be sure, we all got the thrill of a lifetime. No Experience Necessary! Good, because I didn't have any! After we changed into dry clothes we were in for a culinary surprise, this time at the adjoining Bean Tree Cafe. The Udder Chaos & Down South burgers were so insanely good that we practically inhaled them! www.raftinginthesmokies.com
O
ne more food rage that I must tell you about was our breakfast on Sunday morning at our home base, the Creekwalk Inn at Whisperwood Farm, that Ms. Janice had personally prepared. I'd read rave reviews about her breakfast blasts and was looking forward to meeting the Keepers of the Inn close-up and in person and to hear all about Janice's work with horse therapy. The night before she'd dropped off Linda Kohanov's 'The way of the Horse' work enticing us both to draw a card that we'd analyze over her royal breakfast. All on one plate: sausage roll stuffed with local sausage, apple butter, cream cheese and cranberries; fresh lavender scrambled eggs; grilled leeks and pine nuts; Brussels sprouts medley with zucchini and red cabbage; cheese grits; bread pudding with raisins; and strawberries dipped in chocolate. The breakfast was so good we completely forgot about analyzing our horse card! Maybe that was for the best. www.whisperwoodretreat.com
Until the next time, happy trails!
~ Love, Ingrid
Escape From Paradise: www.EscapeFromParadise.net
www.facebook.com/ingrid.lemme #EscapeFromParadise
Award-winning TV Host, Publisher, Travel Writer
Ambassador for www.Seven-Stars.com & 15 Emmy awards www.aTasteofHistory.org www.twitter.com/LemmeEscape     www.instagram.com/ingridlemme