Amazing Amelia Island!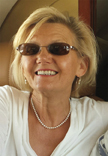 I am sure that people who love to explore America's early history have heard of Amelia Island, located just 30 miles north of Jacksonville, along northern Florida's Atlantic coast line. The island was named for Princess Amelia, daughter of George II of Great Britain, and changed hands between colonial powers a number of times. Eight flags have flown over Amelia Island: French, Spanish, British, Floridian/Patriot, Green Cross, Mexican, Confederate, and United States.
We'd taken the scenic route up from Jacksonville along the coast and arrived at The Florida House Inn, a charming historic bed and breakfast, around lunch time. The Inn, built in 1857, is located in the very heart of Fernandina Beach and is the oldest surviving hotel in the state of Florida. Listed on the National Register of Historic Places, it was originally constructed as a railroad boarding house. Over the years, The Florida House Inn is said to have withstood many hardships but appeared to us picture perfect with its stately architecture and balconies, the shady, garden-like courtyard with a splashing fountain, and its distinctive decor. The nice front desk lady had granted us an early check-in to our 2nd floor accommodations featuring a long balcony with rockers right in front of our windows. Fascinating, when one considers this Inn has welcomed many guests throughout its history, like President Ulysses S. Grant, José Martí, Henry Ford, Laurel and Hardy, Mary Pickford and many others.
We were hungry and walked under precious Live Oaks around the corner and along the historic Fernandina Beach Main Street / Centre Street up to the corner where we found Tasty's. I ordered a 1/4 pounder with grilled jalapeños, bacon, a fried onion ring, cheese and 'gold sauce' on a toasted seeded bun called 'Goldfinger'!
On the way back we couldn't help but step into a couple of the cute boutiques as well as the Eight Flags Antique Market, The Cinnamon Bear, and the Trailer Park Collectibles. Of course I found a couple of things to add to our house that I couldn't live without.
The homes of Fernandina Beach feature various architectural styles that were fashionable during the Victorian era. As we wandered down the sidewalks of Centre Street, we photographed the gracious Queen Anne homes and cottages, brimming with character and charm of a bygone era. For our afternoon coffee break we stopped at the Amelia Island Coffee House and then finally got to check out, right next door, Florida's oldest bar, The Palace Saloon. Once a favorite haunt of the Carnegies, the Rockefellers and other socialites, The Palace Saloon survived the dry era as an ice cream parlor, and is operating as a bar today.
We discovered the well maintained Gregor MacGregor's Mini Links & Drinks. Some of Amelia Island's favorite pastimes: a round of golf, a tasty drink, and beautiful scenery in the heart of historic Fernandina Beach. On this putt-putt course, surrounded by lush gardens, this non-golfer (me) made twice a hole in 1, no kidding — but we still tied.
Dinner that night was had at the Beech Street Grill, located within The William Bell House that was built by Captain Bell in 1889 as a wedding gift for his bride, and is noteworthy for its bay windows and two-story verandas, ornamented with Chippendale style balustrades. For our appetizer we enviously shared a plate of nicely presented Fried Green Tomatoes. The sauce that covered my Local Shrimp and Grits was so hearty and well seasoned that I would have happily taken any leftovers with me. To my surprise the luscious strawberry-lemon cheesecake was gluten free! Beech Street Grill is definitely a place for foodies like us!
On the way back to the Inn, with a full moon shining bright, we passed by a lit Live Oak tree. The ancient, majestic Live Oak tree that stands in the middle of Ash Street is a testament to Ms. Kate Bailey who lived in her close-by Victorian home. When she learned that the tree was scheduled to be cut down in order for Ash Street to be paved, Kate sat on her porch with a shotgun in hand and dared any city worker to cut down the tree. In 1973 the house was added to the National Register of Historic Places.
After a peaceful rest we woke up to the real deal of an antique Woody parked right below our balcony at The Florida House Inn. All shiny and cared for, we had to take a closer look at the red beauty, and got to meet Ralph Henry Williams, the owner. At the Inn, delicious quiche, crispy danishes and yogurt were served for breakfast, and after meeting with some of the guests, we were off to check out Fernandina Beach's Main Beach. Amelia Island's most well-known beachfront park offers its visitors beautiful wide expanses of soft sand, free parking, public restrooms, easy beach access, a playground and more.
Next on our list of must places to see, we visited the Amelia Island Museum of History, located in the Old Nassau County Jail. From the Timucua Native American tribe to Spanish and French explorers, Amelia Island has been home to diverse cultures that have left an exciting heritage. We stepped back in time and discovered 4000 years of life on the water's edge on Amelia Island through one of the most fascinating and informative docent-led history tours we've ever had the pleasure of attending.
I didn't know that the movie Pippi Longstocking was filmed in Old Fernandina Beach! The film was based on the children's classic book series about a young, adventurous girl named Pippi Longstocking. The beautiful Victorian house where many scenes were filmed is located in the Old Town neighborhood. We got to meet the owner of Pippi's house personally who shared with us the excitement of his 5 granddaughters when he disclosed that Grandpa had bought Villa Villekulla.
Shortly thereafter we went back to town for lunch to Timoti's Seafood Shack! The Timoti's family serves flavorful meals created with wild-caught seafood and fresh ingredients. Seriously, if you're visiting Amelia Island and/or Fernandina Beach, it doesn't get any fresher than this! Seafood bliss from environmentally friendly paper boxes!
Our boat ride with Amelia River Cruises was a nice blend of history and nature, and included a tour of Beach Creek and its beautiful salt marshes. We got to see from the boat the captivating Cumberland Island National Seashore, its wild horses, and the ruins of the Cumberland Island's Dungeness Mansion. Its history, as presented by Captain Kurt Weiss, enticed me to order the book about "The Wildest Woman in America and the Fight for Cumberland Island".
Our last dinner, we enjoyed at "The Patio at 5th and Ash," a new indoor-outdoor restaurant that opened just last September. Scott, the owner, saw that "The Patio" was for sale on a visit during Amelia's annual Shrimp Festival. "And the rest was history," he said. We liked the feel, the food and the cozy fire pits of this fun place. Amelia Island is host to the annual Isle of Eight Flags Shrimp Festival with over 100,000 people visiting in May. On the way home we stopped once again for ice cream from Fantastic Fudge and to visit the cool kids that work there.
We love to hang out with the locals and that's why we had breakfast the next morning at T-Rays! I mean, who doesn't want to eat breakfast or lunch at a former gas station?! We enjoyed our food and met lots of nice people, the staff, the Assistant Chief of the Fire Department, Mr Roland, and the handsome young man who celebrated his 17th birthday.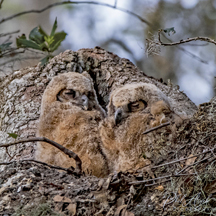 On the way to Fort Clinch we saw a group of people all starring with their cameras into the trees, and of course we tried to get close ups of the three baby Great Horned Owls as well! Fort Clinch is a 19th-century masonry coastal fortification, built as part of the Third System of sea coast defense conceived by the United States. This site was first fortified in 1736 by the Spanish when they held colonies in Florida.
With 13 miles of protected dune coastline, Amelia Island grants its residents and visitors convenient access to several local and private beaches along the scenic, historic A1A. One of the private, white, sandy beaches that we got to visit is owned by the Omni Amelia Island Resort. Nestled on 1,350 acres at the tip of this barrier island, this resort offers luxurious oceanfront accommodations, stunning pools, championship golf, a full-service spa and over 10 dining venues.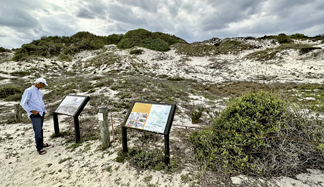 Some of these, like the Marché Burette restaurant & gourmet market, are located along the Amelia Village Circle and open to the public. We had the pleasure of enjoying a great lunch there, and as luck had it, we met the young, innovative Executive Chef, Omar Collazo, as well.
Last, but not least, we stopped briefly at "NaNa," the tallest dune in Florida, which is a protected landmark due largely to the efforts of MaVynne Betsch, widely known as the "Beach Lady." Betsch, who once performed opera in London, Paris and Germany, returned to American Beach in 1975 as a full-time resident. Nana Dunes, American Beach, Amelia Island, has played a significant role in recent African American history.  www.ameliaisland.com
Until next month from another interesting location!
                — Yours in travel, Ingrid
Escape From Paradise: www.EscapeFromParadise.net
www.facebook.com/ingrid.lemme         #EscapeFromParadise
Award-winning TV Host, Publisher, Travel Writer.
Ambassador for www.Seven-Stars.com & 15 Emmy awards www.aTasteofHistory.org
www.twitter.com/LemmeEscape         www.instagram.com/ingridlemme