The Shepherds of Crete!
Dear Reader. Since we are all in this 'stay at home' trauma together, there is no need to explain why we couldn't "Escape from Paradise" last month and write about a new getaway. But as some of you might remember we cruised last fall with Holland America all over the Mediterranean, and one of the most thrilling adventures we experienced was in Greece, on the island of Crete. Our ship, The Rotterdam, was docked in Souda Bay, a deep, natural harbor near the town of Souda on the northwest coast of this ancient island. Souda Bay is a popular tourist destination today although there are no formal public beaches in the area due to the presence of the Crete Naval Base, a major naval installation of the Hellenic Navy and NATO in the eastern Mediterranean. We had decided to skip the typical tourist spots for a sneak peek at a side of Crete that only a few get to see, how the shepherds of the White Mountains preserve and continue a culture that supports the people of Crete for thousands of years. 
 
We had booked a White Mountains Safari that would bring us and another couple all the way up 4500 feet high on a donkey path to visit a shepherd and his herd while most people visiting Crete think of beautiful beaches, cafes and restaurants in this corner of the Mediterranean. Our amazing off-road adventure began when we hopped on a Jeep that had seen its days, left the tourist spots behind and entered beautiful valleys of orange, avocados, and olives trees. While climbing up the foothills to our destination in the White Mountains we passed through several small Cretan villages and stopped at a small store in Derés, Khania for coffee, fresh pressed orange juice and some homemade cake. Of course we bought some of the villager's own cold-pressed olive oil, as well as some Raki, some sort of local moonshine. 
 

We then continued our adventure by following the ever meandering off road route up the mountain, where only a four-wheeler can go, to the shepherd's hut called "Mitato". At every turn with one tire prancing insanely close to the edge of no return we prayed silently that the Jeep's clutch wouldn't fail that very moment. However, with adrenaline pumping we marveled at the magnificent panoramic views of the White Mountains of Northern Crete as we discovered soaring eagles and climbing goats that presented us with a good reason to stop and capture the views of the deep blue Cretan and Libyan Sea on the horizon with our cameras. An even smaller and even more rocky road lead us finally up to our excursion's highest point of over 4500 feet altitude in the heart of the White Mountains where the famous Cretan "Graviera" cheese is produced. 
 

Here under endless blue skies and in a world without sound we were allowed to look into the mountains' most ancient tradition, passed from generation to generation for thousands of years, by the shepherds of Crete. Although Cretans no-longer hold goats and/or sheep by their homes, shepherding still remains a highly respected profession.  Up here in the White Mountains we found a traditional Mitato, a shepherd's hut. There is no internet, no TV, no phone service and the only running water is drawn from a spring that hopefully will never dry up. A Mitato is a hut built from locally gathered stones to provide shelter to shepherds, and it is also used for cheese-making by using centuries-old methods. Graviera, which is made in these shelters, is Greece's second most popular cheese after Feta. Made in wheels, the rind of the hard cheese is marked with the characteristic crisscross pattern of its draining cloth. There are various types of Graviera produced in Greece but the Graviera of Crete is made from sheep and goat's milk and ripened for at least five months in a separate halfway underground structure by the Mitato.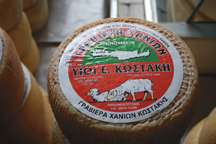 The shepherd in resident sends his cheese down to his village on the back of his donkey. Our dare-devil driver and guide, an all around nice guy from Crete, was very informative and fluent in English, explained that the donkey follows the path religiously because it leads him down to the shepherd's wife, where he is being fed and cared for and then send back on his way once again to the mountain the next day. We learned about the back-breaking challenges the shepherd's face when the sheep have to be milked or sheered and the innovative but simple solution they've developed to release the constant restrain on their backs. 

On our way back we took a different path and got to experience the most amazing panoramic views of Chania, but were glad when we finally arrived at the Therisso village for lunch at a local tavern. Here we were personally welcomed by the owner and our guide explained the 5-course meal, two main dishes, a Cretan salad, wine and dessert that had been prepared for us. There was plenty of delicious local foods for all to go around and wine and Raki offered with the renown Cretan hospitality. We are glad, so glad that we were able to meet these wonderful people, and eat their delicious food cooked with the aromatic herbs of their land. www.incrediblecrete.gr
Until next month from another interesting location!
              ~ Love, Ingrid
https://www.facebook.com/ingrid.lemme
Award-winning TV Host, Publisher, Travel Writer, Ambassador for www.Seven-Stars.com