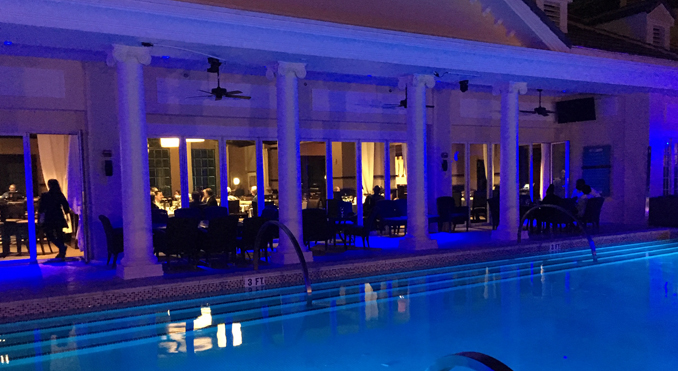 A Nicklaus, Palmer, Watson Reunion in Florida!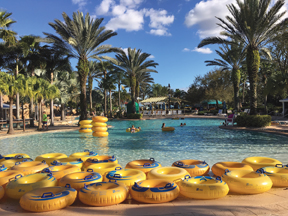 "The Reunion Resort is the only place in the world where one can play signature courses designed by three of golf's greatest legends while the kids are having fun in the tropical waterpark with multiple slides and a 1000 ft lazy river…" Combining the beauty of their natural landscaping with unique and challenging layouts, these courses have not only won numerous awards over the years but now the hearts of my husband and friends. Reunion Resort, perched in 2,300 lush acres in a resort and master-planned community, situated within Four Corners in Osceola County, is located just minutes from the Disney World theme parks and all the other major tourist attractions that Orlando, Celebration and Kissimmee are so famous for.
We arrived at the Reunion Grande, the focal point at the center of the property, surrounded by lush greens and impressive villas. The hotel itself features a couple of restaurants including "Eleven", the Signature Steakhouse, with rooftop pool and nightly views of fireworks from nearby Walt Disney World. Amenities at the resort include seven casual and fine dining venues, which includes the Signature Steakhouse, elegant indoor and outdoor meeting spaces, six hydro-grid clay tennis courts, a full-service boutique spa, 10 community pools, a fitness center and a five-acre waterpark, soon to be even further expanded.
Our early check in was quick and easy and to our surprise we were upgraded to a 3-bedroom villa with a charming balcony overlooking the Watson course, getting my husband all wired for his T-time the next morning. Presently, Reunion Resort features 360 resort-style accommodations ranging from luxury multi-room villas to private three- to 13-bedroom vacation homes. But as of February 8th 2020 the new owner Kingwood International, has plans to make significant investments in Reunion Resort, such as the addition of 1,200 rental accommodations, including a new 400-room hotel with significant convention and meeting facilities, which is intended to enhance the resort's condominium and private home rentals. There will also be an expansion of the multi-acre Reunion Resort Water Park, with the addition of a wave pool and more! Reunion Resort was originally developed by Bobby Ginn and the Ginn Family, owner and developer of several famous resort communities throughout the World. The Ginn Family also owned the NASCAR Team. "We are excited to add Reunion Resort as a key acquisition in our growth strategy for Kingwood International Resorts," stated Fred Zohouri, Kingwood's founder and chief executive. "Our plan is to build upon the successes of Reunion's leadership and frontline hospitality professionals so we can provide our members and guests with extraordinary experiences."
Our accommodations allowed us as seasoned travelers to bring our favorite breakfast components with us and with that we thoroughly enjoyed the next morning on the balcony as the weather was once again beautiful. After breakfast we looked at one of the tennis courts close to our suite, walked to the pro-shop adjourning the hotel, and checked out the charming boutique spa. My husband was looking forward to his 10am T-time, and I, to my facial. The Spa at Reunion offers guests a wide range of relaxing body and facial treatments, manicures, pedicures and presents itself truly as a little sanctuary. Some services are available on the spa's outdoor veranda. I had a wonderful deep cleansing and revitalizing Reunion Signature Facial with Susan O'Dea, expertly removing impurities that left my skin clean, refreshed and glowing —while my husband played 18 holes with three guests from
South Korea. He told me that it was a pleasant grouping on a challenging yet forgiving course, and trust me I would have heard otherwise. "Innovatively routed on hilly, roller coaster-like terrain, par 72 Signature Course boasts dramatic elevation changes up to 50 feet in some places, creating a unique variety of risk/reward shots." Arnold Palmer's original course designing style, even more than his scorecard, elevated him to legendary stature. He played with a sense of adventure and exuberance, and today designs golf courses with that same passion. In Go for Broke, My Philosophy of Winning Golf, Palmer says, "Whenever I step out onto a course, it is with a vast expectancy. On any given day, I want it to tell me what it has in mind." As a designer he now builds that expectancy into his courses, and his new layout at Reunion Resort is no exception. –Of course we had to check out the five acre Reunion Resort Water Park; we are grandparents. With spraying water cannons, a lazy river, four waterfalls, kid-pleasing twisty water slides, rope bridges, a zero entry pool, water volleyball, water sprays and a giant water bucket that empties every few minutes, the tropically-themed Water Park is a family fun-zone.
Who hasn't heard of or watched Disney's fireworks? Dinner on "Eleven" serves excellent cuisine every night with fireworks over dessert, that's of course subject to the preference of your dinner time. We had reservations at 7pm, perfect to enjoy that grand finale of a fabulous dinner and celebrating Sabrina, the new Chef de Cuisine. Sabrina Green, newly acquired by Reunion Resort with more than 10 years of experience in fine dining and most recently, she held the position as Sous Chef at Spencer's Steakhouse at the Hilton Orlando where she spent eight years. Sabrina had presented us with a personal culinary note, a chunky tuna tartare amusé that melted on the palate. We shared an appetizer that
alone would make us return: Cornmeal Dusted Calamari with crunchy Chorizo, fresh Red Chili, Broiled Lime, Parmesan and Island Aioli. Last but not least we watched the fireworks over a White Chocolate Raspberry Truffle Cheesecake with a fresh Raspberry Swirl, real Whipped Cream, White Chocolate, and a Raspberry Glaze. The entire staff at Eleven was wonderful and so was our waiter who works as a banker during the day and part-time at night because he and his wife love to travel. We wish Sabrina, the new Chef de Cuisine (btw, she is originally from New Jersey) and her team all the best and are looking forward to a return in a couple of years and see all the new that Kingwood International Resorts has done. We are excited for Reunion, as Atlanta-based Kingwood International is specializing in golf-centered clubs and resorts, currently owns and operates Kingwood Country Club & Golf Resort and Achasta Golf Resort community, both in North Georgia, and the eco-friendly Plantation on Crystal River in Central West Florida, all highly successful establishments. www.ReunionResort.com
          ~ Love, Ingrid
https://www.facebook.com/ingrid.lemme
Award-winning TV Host, Publisher, Travel Writer,
Ambassador for www.Seven-Stars.com