Traverse City…Michigan's Pride and the Sleeping Bear Dunes!
There are places that one visits and likes, and then some, like Montauk, that one falls in love with and must return to. One of these places is Traverse City, or in short "T.C.", named after Grand Traverse Bay, and is the largest city in the 21-county Northern Michigan region. T.C. ranks as one of top 10 places to retire in the U.S. and is also among the top 10 winter vacation destinations in the country. Located by the Old Mission Peninsula, which splits into two bays (east and west) and located in close proximity to The Sleeping Bear Dunes, is perhaps the most beautiful region of Michigan. It's no surprise that the Sleeping Bear Dunes were named the "Most Beautiful Place in America" on ABC's Good Morning America. Besides, we are foodies, and T.C. featuring more than 150 restaurants, over 40 wineries and lots of craft breweries, and is recognized as one of America's most unique culinary destinations. Ergo, we gladly returned to T.C. in June to celebrate our niece Tara's wedding.
Ever wonder why so many retired people drive sports cars?  Simple, because most of us couldn't afford such luxury when we were younger and then we made up for it in our later years. Besides, there is such a thing as midlife crisis; I had mine at the age of 50 and succumbed with the purchase of a red Mazda Miata. That's pretty much the same with the places we stay at when we are traveling. My husband, who skied in his younger years in the Boyne Mountain –T.C. area, always bunked in the cheapest places with his buddies but dreamed that someday he would return and stay at the famous Park Place Hotel. In 1930, the completion of the 10-story tower made the hotel the tallest building in Traverse City, and its 25,000-watt beacon became the symbol of its far-reaching hospitality. Park Place Hotel is in its second century and currently owned by Regency Hotel Management. Located in the heart of downtown T.C., our newly refurbished elegant corner suite on the 7th floor, granted us more than just nicely appointed accommodations, but stunning views of Traverse City and picture-perfect sunrises and sunsets of the beautiful Grand Traverse Bay. Our first dinner upon arrival at the hotel was at Minervas and the Walleye special knocked our socks off! Their award-winning cuisine alone would have been worth the stay. www.park-place-hotel.com
Our location was ideal, as a pre-wedding gathering of family and friends was planned at the Taproot Restaurant and Bar just two blocks from our hotel.  As well as, Traverse City's official LGBTQ+ Pride Celebration, which is Michigan's Premier Destination Pride event, was taking place June 17-23 throughout downtown Traverse City.  We got to experience downtown T.C. all dressed up in rainbow colors. www.upnorthpride.com
Traverse City, with its tree-studded, pedestrian-friendly downtown, impresses with its multitude of beautiful boutiques, restaurants, cafes and galleries, and lots of places to just relax and watch the crowds go by. And there was something inherently fabulous happening when shopping gave way to nightlife and the focus shifted to dinner and drinks. We visited the amazing City Opera House as well as the State Theater and relished in the vibe of the rainbow. We got hooked on the clean earth to table cuisine and cider at the Taproot Cider House where Rod Conrood's trio kept the crowd on their toes. Our niece's husband Rob studied guitar at Interlochen Arts Academy, attended CalArts in Los Angeles where he recorded his first album. On Fridays, the instrumental guru creates the perfect ambiance for dinner with a blend of acoustic funk & jazz!  Lucky for us, Taproot catered Tara and Rob's wedding at his parents' home in Interlachen. I can only imagine how much work went into this beautiful country wedding. Every charming detail was a work of art.  And the music? What a treat! Thanks to the local farmers and the gifted hands of Taproot's chefs I must have had easily 4 helpings of the delightful dinner buffet and that didn't include the highly addictive desserts that Rob's mother created herself. www.taproottc.com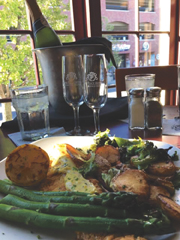 We had 4 days in T.C., to celebrate our niece's wedding, and time to finally take both famous scenic Michigan highways that run the lengths of the Leelanau and Old Mission Peninsulas. M-22 follows West Grand Traverse Bay and into Leelanau County, while M-37 goes north into the Village of Old Mission. Both are easy drives from downtown Traverse City and can be explored in a day, if one must. But please explore the Sleeping Bear Dunes and quaint port towns along M-22 on the Old Mission Peninsula along the way. Heading north from Traverse City, the narrow ridge of land separating the two arms of Grand Traverse Bay features grand lake views, farms and vineyards. Near its tip is the charming Old Mission Village, founded in 1839 and home to the Old Mission Inn (the oldest continuously operated hotel in Michigan). There's also the Old Mission General Store, an original with a charming old-time feel where we met a whole bunch of lady bicyclers and made new friends. The owner even sells penny candy! At the very end of the road we discovered the Mission Point Lighthouse, built in 1870 to warn ships away from the dangerous shoals that one can see from the shore. Although no longer in operation, the lighthouse is open for tours and is the centerpiece of other historical exhibits and a popular park. Because of its compact size, the Peninsula is ideally suited for wine touring. Its nine wineries are surrounded by some of the region's most beautiful scenery and are open for tours and tastings. The peninsula is also home to several fine restaurants and an outstanding art gallery, and there are farmers markets and vegetable stands offering local produce and honey!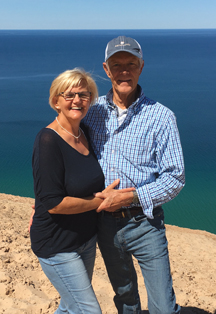 The region's larger peninsula, the scenic Leelanau Peninsula, stands between Grand Traverse Bay and the open waters of Lake Michigan. It has long been a major fruit producer and today it's also the region's most active wine-producing area. Much of the gorgeous Sleeping Bear Dunes National Lakeshore lies along the southwest shore of the peninsula, but Leelanau contains a wealth of other natural treasures as well, from the coves and beaches of Northport to the paved Leelanau Trail between Traverse City and Suttons Bay. It's also home to several charming villages – like Leland, with its reminiscent Fishtown district, where century-old fishing shanties have been converted into unique shops and restaurants, and Northport, the last town almost to the tip of the peninsula just before you reach the iconic Grand Traverse Lighthouse. "Because the Leelanau Peninsula is larger, it's best suited for a full day's visit or even a few days (if you really like to take your time). Definitely try the Dune Climb at the Sleeping Bear Dunes, eat something with cherries at Cherry Republic in Glen Arbor and catch a sunset from the dock in Leland," suggests Traverse City Tourism. www.traversecity.com
Until next month from another interesting location!
 ~Love, Ingrid
https://www.facebook.com/ingrid.lemme
Award-winning TV Host, Publisher, Travel Writer, Ambassador for www.Seven-Stars.com