Celebrating Our Third Wedding Anniversary on Jekyll Island, Georgia!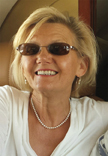 I can't tell you how often I'd heard of Jekyll Island, one of the Golden Isles of Georgia's barrier islands. Located just across the water from its nearby neighbor St. Simons Island, Jekyll Island is now a Georgia State Park, and maintains a strict conservation clause that limits future development to protect the scenic beauty that is home to the famous Driftwood Beach, and magnificent old Southern Oak trees with Spanish moss dangling like ornaments from their branches.
Jekyll Island formerly owned by old and new money is today owned by the State of Georgia and run by a self-sustaining, self-governing body and one enters the island through a gate; and with just $6 per car, you're on!
Jekyll Island is renowned for its landmark Historic District, termed the "Millionaire's Village" long ago, with its 240-acre site containing 33 historic structures, including the famous Jekyll Island Club Hotel and surrounding cottages that were once home to some of America's most wealthy and prominent citizens, some of whom included the Crane family, the Pulitzers, Morgans, Vanderbilts, Rockefellers, and Goodyear clan to name but a few. These privileged few used Jekyll Island as a hunting and golf retreat, spending mild winters and lazy summers
there and building homes that now have been lovingly restored to their former glory. Jekyll Island has been a part of many historic moments, including the first meeting of the Federal Reserve, and the first transcontinental telephone call.
Jekyll Island has received numerous awards and recognition for its preservation work that continues today, and has been named to the National Trust for Historic Preservation. Other notable attractions include Faith Chapel, Horton House, and the old Plantation Oak, estimated to be 350-400 years old. Today. Jekyll offers visitors a trip back in time to a simpler, unhurried way of life and may meander around the Historic District, visit these restored cottage homes as well as cute shops, restaurants or take carriage tours. And since we were celebrating our wedding anniversary AND my husband loves golf, there was no question that we would stay at the one and only Jekyll Island Club
Hotel, a carefully restored, romantic Victorian beauty, beckoning lovers of all ages to its towering turret balcony.
Many of the prominent scenes  of 'The Legend of Bagger Vance', produced by Robert Redford, a film about a golfer (Matt Damon) who is trying to recover his game, as well as his life, and gets help from a mystical caddy (Will Smith) were filmed at the Jekyll Island Club Hotel and the island's golf courses. The production crew had created the Lobby Bar that is featured in the film. "But people were so interested seeing it, that the hotel management had no choice but re-creating the bar after production had finished…" explained our tour guide Sherrie. In the film, Jekyll Island represents the story's fictional 'Krewe' Island.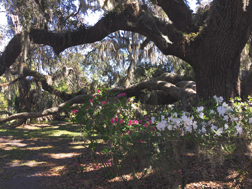 Rated among the top 500 resorts in the world by Travel & Leisure, The Jekyll Island Club originally built as a hunting retreat for the elite in 1888 granted us an unforgettable experience that got us hooked for anniversaries to come. Lounging by the sparkling pool with a drink, or on the wrap around verandas with a nice cup o' coffee and a sour cherry filled pastry from the café and watching people dressed in white playing croquet on a warm spring day? Priceless! We met friendly people from all over the world, some of the guests were returnees, snowbirds on their way back up north, who just couldn't pass by Jekyll Island— for the memories. We also met young couples with children, riding bikes, experiencing the Georgia Sea Turtle Center, and playing on the manicured lawns by the Jekyll River. If I would have to describe the feeling of this place, I would have to quote Walt Whitman, "Ah, what can ever be more stately and admirable to me than mast-hemm'd Manhattan? —River and sunset and scallop-edged waves of flood-tide?"
Our accommodations: The romance of a light filled, cozy-elegant corner suite with a fireplace and river and garden views from the second floor of the famous historic Crane Cottage. The Crane Cottage is one of the most famous pieces of architecture and one of the top attractions on Jekyll Island. The Crane Cottage was constructed in 1917 and has decorated Jekyll Island's Historic District with the architecture of its Italian villa style. A Chicago native, Richard T. Crane Jr., who was the heir to the Crane Plumbing fortune, built the home in 1924, the most expensive and elegant home ever built on Jekyll Island. In 2000, this historic home went under a complete restoration. This restoration process was possible due to the cottage becoming a part of the Jekyll Island Club Hotel.
It was a full moon night but just cool enough to use the fireplace and turn off the light so we could watch the 'Worm Moon' rising over the water through the majestic trees. The Full Worm Moon is the last full moon of the winter and basically signals the start of spring, which is when temperatures rise and earthworms begin to surface, hence the name.
We slept sound without a sound beyond our walls and after a hot shower and a quick breakfast we made it just in time to hop on the red trolley. The sold out tour included all the historic sites on Jekyll, a few ecological points of interests and some general sightseeing. The historic district included the cottages and the 'Social Hall', now Jekyll Island Club Hotel, all narrated by a knowledgeable young woman! But my favorite history tour was that of the Jekyll Island Club Hotel, given by the hotel's own concierge Sherrie, a passionate long term employee and local with deep respect and love for these historic walls and the island. Sherrie took a group of circa 20 people up to 'the tower' and into all the public halls where she shared with us her incredible knowledge of this unique place. "Jekyll is a place where world and national history were made and influenced", and hanging on Sherrie's lip, it felt, as I was part of it for the time being– while my husband was golfing. He will assure you that he loved the round of golf and the guys he played with on the Pine Lakes Course, but I think after all I'd shared over dinner with him that evening he might reconsider next time 'a-round'…Pine Lakes is the island's longest golf course of the 4 onsite, meandering through ocean forests and undisturbed marsh hammocks. Golfers and naturalists will hopefully find solace in this tranquil outdoor venue when they lose a ball.
Our anniversary dinner that evening in The Grand Dining Room was an unforgettable experience, from the moment we met the impeccably dressed Maitre'd to the last bite of our luscious dessert. Jackets or collared shirts, slacks or appropriate jeans for gentlemen requested! We had mentioned that we were celebrating a wedding anniversary, when we made our reservation,  and were seated by the fireplace. It was apropo that the red roses on the table and live piano music in the background set the tone for an unforgettable evening. Beautifully restored in the Victorian mode, the room is dominated by ionic columns and gleaming white woodwork. This Grand Dining Room continues to welcome titans of industry, VIPs, and guests for over a century and we were excited to be here.  Our dinner, paired with wines for my husband, started with a fun little crab-cake amuse, a to die for Crab Bisque, served with a nice dollop of pulled crab meat (definitely one of the best), and a fabulous lamb creation as our main course. The lovely Ms. Jennifer severed our 5-course dinner with eloquence, patients and an ever-gracious smile. We shall return. www.jekyllclub.com
Until next month from another interesting location!
            ~ Love, Ingrid
Ingrid Lemme-Chalut: www.facebook.com/ingrid.lemme           Award-winning TV Host, Publisher, Travel Writer, Producer, Author and Ambassador for www.Seven-Stars.com