Maison Marcel & The French Goat, a love affair in Lewisburg, WV!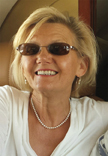 We all know of places that we have visited and that we are certain we will have to return to, some day. Like Montauk, Lewisburg has a charm that is elusive, but has us return over and over again for a fix. Lewisburg was voted just a couple of years ago as America's 'Coolest' small town, and who doesn't want to visit a cool town? Close to the mountains, and surrounded by the natural beauty of Greenbrier Valley, it draws visitors not only to its famous farmer's market, shopping, dining and historic downtown district but also to its amazing remnants of its Civil War connections and ever present diverse local art. Wandering Bird is a brand-new gallery where we had the pleasure of meeting the owner and artist Jorn L. Mork. Wander in, like us, and feel the magic, definitely Not Your Ordinary Fine Art and Craft! www.wanderingbirdgallery.com
We have visited the charming town of Lewisburg on several occasions, attending the annual chocolate festival, took a guided candlelight walking tour of haunted places and homes and visited the Greenbrier Resort. Quite recently in Lewisburg we also managed an overnight at the historic General Lewis Inn, which we thoroughly enjoyed. www.visitlewisburgwv.com
This time though, we were going to experience a night at another historic inn, Maison Marcel, a 1920's era manor combined with dinner for two at The French Goat, its sister property. The drive up to this stately manor, located less than one mile from downtown Lewisburg, was an experience in itself since the property is surrounded by 3 ½ acres of luscious lawns and gardens with no sound from the road below which leads into town. Ms. Debbie the co-owner welcomed us with a gracious smile and introduced us to her stunning home that features two luxurious guest suites and beautiful common areas decorated by Carleton Varney, a protégé of the one and only Dorothy Draper, the doyenne of interior design. Varney is one of America's best-known interior designers and is responsible for the restoration and decoration of many hotels throughout the world including the famous Greenbrier Resort in White Sulphur Springs, West Virginia.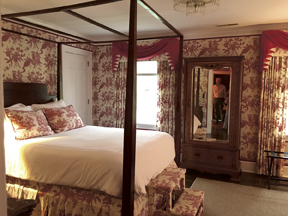 Our accommodation, The Caldwell Room, was delightful! A romantic 4-poster canopy bed with lush bedding and an upholstered stepping bench, antique furnishings, silk fabric padded walls, and soft lighting. Adjoining is a fabulous bath newly renovated with a large subway tiled shower and everything that the most discriminating traveler could possibly require. The Greenbrier Room on the same floor featured a four-poster king size bed with sitting area in front of a working fireplace, and a mixture of antique furnishings with modern day touches. The room also boasts a newly renovated ensuite bathroom with a large walk in glass enclosed shower. This elegant residence truly delights, with plenty of outdoor space including a sun deck, a lovely veranda and a quaint gazebo to suit any mood. Btw, the "petite breakfast" the next morning featured fresh berries, granola, yogurt and the largest and best croissants I have tasted so far, and that includes the ones we had in Paris. www.maisonmarcelwv.com
Debbie Porter and Arthur Forgette, the proprietors, were pursuing their lifelong dream of opening a French restaurant away from the hassle of the big city and chose the area where Debbie has family ties, long steeped in the West Virginia hills. Arthur and Debbie combined his vast knowledge of 30 plus years of experience in the hospitality industry with Debbie's New York marketing and sales background and opened The French Goat over 4 years ago. Today, The French Goat is a staple on any gourmet diner's list and what makes staying at Maison Marcel a unique experience as it is paired with their award-winning restaurant. We'd checked in at 4pm and after a tour of this incredible place we met a nice couple from Tennessee in one of the sitting rooms. Clark and Susan Simpson were staying in The Greenbrier room next to us and were equally delighted about their accommodations and the manor house in general.
We had dinner reservations at The French Goat at 6:30pm and were excited to experience Lewisburg's hottest restaurant, and its "classic French fare with a modern Bistro twist". The French Goat is located in a beautifully restored old home from the late 1800's. Arthur Forgette welcomed each guest with a kind and open smile that makes one feel comfortable and at ease. Though advertised as a French Bistro, the feel is more elegant French country cottage inside. It was the evening before Mother's Day, definitely a busy night and we were led to a lovely window alcove table, perfect for a date. In no time we were offered water and quickly thereafter a young lady appeared with a basket of two kinds of highly addictive crusty local breads, and a dish with creamy butter topped with black salt. Black salt is used in many Ayurvedic therapies because it is rich in iron and has cooling properties and delightful when added to sweet or unsalted butter.
As hors d'œuvre or entrée (introductory course) we chose the Chef's Soup of the Day, a delicious puréed black bean winner and Grilled Asparagus with a mild thinly sliced Prosciutto, topped with a perfectly Poached semi runny Egg.
As my plat principal (main course) I ordered the Buttermilk Fried Chicken Thighs, served with French Beans over multi-colored Fingerling Potatoes and shredded Celeriac. My husband, who had left the choice between the Fish of the Day and the Pho Duck to the waiter, was indulging on a crispy duck leg, French beans, Udon noodles, combined with a delicate broth representing an intricate subtlety often found in traditional Asian cuisine but not often as perfect as here. We had a culinary blast!
Halfway through dessert we had the honor of meeting Executive Chef Stephen Gustard. Gustard had left his Executive Chef position at The Greenbrier Sporting Club Lodge in 2015 to work in a more intimate environment. Here at The French Goat he displays his culinary talents on a nightly basis wowing locals and visitors alike. Chef Gustard and Arthur planted a vegetable and herb garden nearby the restaurant and the Chef is looking forward to walking out the door and picking the freshest ingredients right from their own backyard. With Chef Stephen Gustard displaying his culinary talents now on a nightly basis with his "plats du jour", one is always in for a surprise. However, the most tantalizing culinary creations wouldn't be what they are without a well-functioning team in the front of the house. The French Goat isn't just serving fabulous cuisine as their team is truly in sync with each other and on top of their game. We felt completely and methodically escorted through our culinary experience by a fine staff that operated seamlessly without effort to make sure we were happy with every course. From the Maitre D' to the after dinner drink at the bar our experience was a well-rehearsed and exciting show de cuisine! Applaudissements au chef et à toute l'équipe! www.thefrenchgoat.com
Until next month from another interesting location!
            ~ Love, Ingrid
https://www.facebook.com/ingrid.lemme
Award-winning TV Host, Publisher, Travel Writer, Ambassador for www.Seven-Stars.com